Too many PMS options? Meet Ynnov a recognized option in the short-term rental market.
And as usual Doinn only partners with the best options in the industry.
This is the case of Ynnov, a 100% Portuguese PMS developed especially for vacation rental.
Keep reading all the details about PMS Ynnov 😉
Developed 100% in Portugal and in Portuguese:
Ynnov is a PMS that has been evolving for 12 years, bringing together some of the best tools.
Since its origin in 2010, Ynnov has maintained a process of continuous improvement that guarantees you, today, maximum efficiency in the management of your properties on all fronts where you can operate.
With a Portuguese team that understands the needs of the local industry.
In the market for 12 years, in constant evolution and growth, the Ynnov platform is today the most complete PMS available for the Portuguese market.
With its wide range of features, the Ynnov software guarantees an efficient and automated management of the entire operation, whether short term accommodation, hostels, or hotels.
By using Ynnov, hosts and property managers can save precious time in daily management, regain quality of life and focus on what is really important for their business.
Decreasing the probabilities of human error will increase customer satisfaction and increase the profitability of your properties.
Ynnov is considered one of the best Portuguese PMS and Channel Manager, as it maximizes productivity, allows a professional level of management and, consequently, maximizes positive results.
Since the creation of Ynnov, in 2010, the team's main concern is the constant improvement of the software, to follow all the important developments in the evolution of the tourist market, as well as the main needs of its customers.
Therefore, today Ynnov guarantees maximum efficiency in the management of all aspects of the accommodation business.
Features:
The Ynnov software includes a powerful Channel Manager, which synchronizes with the main distribution channels, and a Property Management System, which allows customers to centrally manage all aspects of reservations and accommodation.
This also includes:
Communications to the SEF.
Emails and text messages.
Cleaning service
Maintenance
Online check-ins
Finance
INE/SREA reports, guest data, tourist taxes, digital keys, notifications and alerts, various automation mechanisms, staff, owners' portal, and statistics.
With the additional certified invoicing software, YnnovFAT, invoicing is as fast and easy as a single click.
The Ynnov mobile application, available for iOS and Android systems, allows customers to always follow the daily activities of their business, no matter where they are.
Whether it's check-ins and check-outs, cleaning, new bookings or other important aspects, it's all in the app.
Ynnov also allows accommodation owners and managers to easily develop a personalized and attractive website to directly promote their brand/accommodation and attract direct bookings, not tied to distribution channel fees.
The web design is customizable, with a modern design, intuitive use, and full compatibility with mobile devices.
Editing multi-language content is easily done directly in the PMS software.
Having your own direct sales channel allows owners and managers to increase customer loyalty as well as direct bookings.
For those who already have a website, Ynnov also has a solution, a booking platform that can be connected to any website or used on social networks.
Cleaning and maintenance features: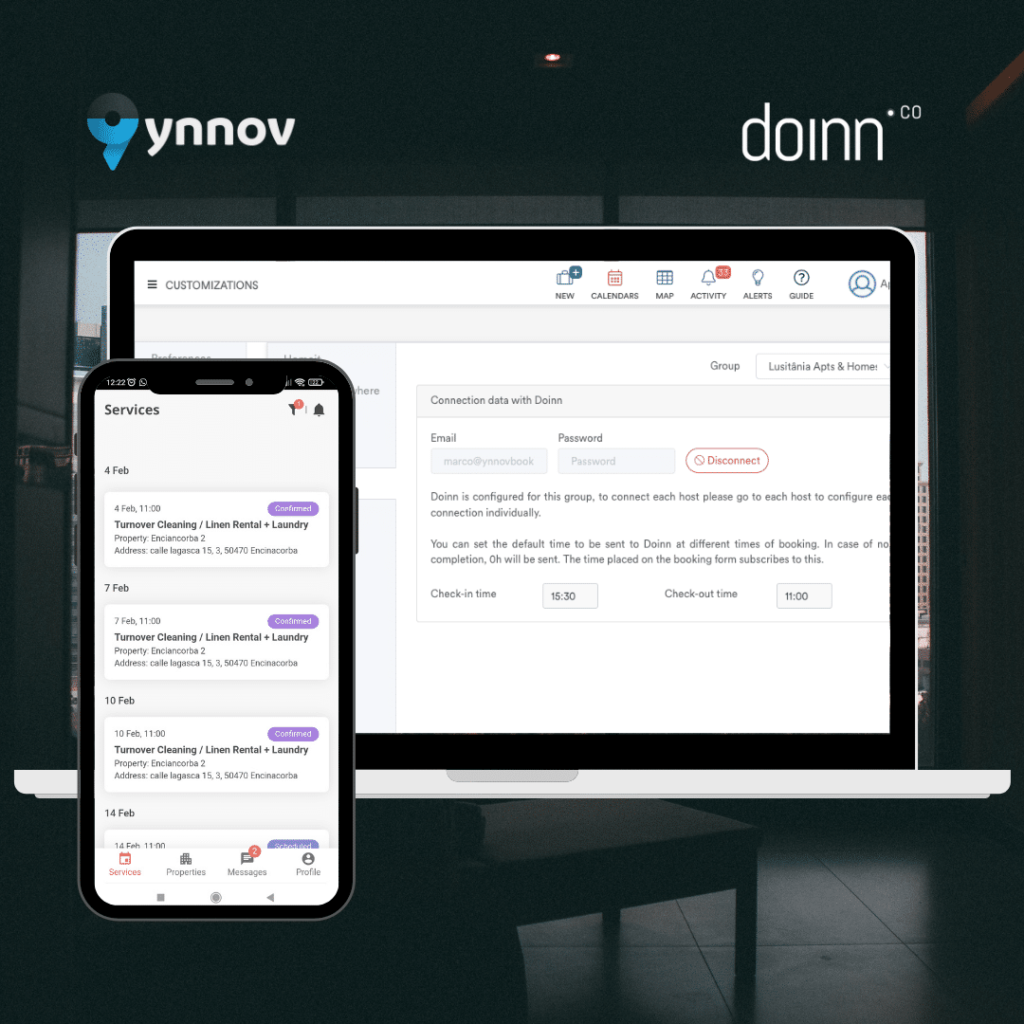 Thanks to the Doinn integration, you will be able to manage your services through your Ynnov account with just a few clicks:
Access your Ynnov account and look in the user menu, in the upper right corner, and select "Personalizations".
Once in the "Customizations" menu, select "Integrations":
On the left side bar and then select "Doinn". Enter the email and password that were used to create a Doinn account and press "Connect".
That's it!
You can check out more about the integration in this walkthrough.
What can you do with this integration?
Turn your bookings into cleanings
Get laundry services and linen rentals
Request any specific cleaning services offered by Doinn at your property.
Manage your business in the palm of your hand thanks to two software specialized in local accommodation.
And spend more time managing communication with your guests, booking prices, and more!
A Channel Manager is definitely an extensive subject and of course here at Doinn, we care about giving you all the details on this type of solution.

Moreover, providing clean and tidy accommodation to your guests is a big part of your operations.

That is why we want to offer you various solutions and integrations.
Today we are announcing our integration with a new property management solution: let's welcome Octorate!

A complete suite with different features that will help you run your vacation rental company.
See all the details about Octorate here below 😉
Octorate – the perfect solution for property management
Thanks to the Octorate Channel Manager you will boost your visibility online and hence increase your reservations.
Octorate is Booking.com, Airbnb, and Expedia's preferred partner.
As well as being integrated with +150 OTAs around the world.
Allowing you to potentially open your property to sell.
A channel manager like Octorate will definitely simplify your business and your daily activities.
You will have the chance to start getting many reservations on various portals.
But you can manage all of them from one platform (rates and availability update, restrictions, etc).
With Octorate, you can also start getting reservations without any commission costs thanks to the Booking Engine.
It is a booking platform compatible with any website and fully customizable.
However, in case you do not have any web page, you can get the OctoSite.
A real website that can be set up in a few minutes, already linked to the Booking Engine.
Housekeeping with Octorate & Doinn
Octorate is not only a great tool for property management because of all the channels you can work with.
But also an in-cloud platform compatible with any device and you do not have to install any software to use it!
By combining both powerful solutions you will have a new way of running your business with Octorate & Doinn.
Add the iCals of your properties to your Doinn account, you will be free of the hassle of cleanings.
Automate the turnovers with every new booking coming from the different channels.
This combined with the Octorate app will be a completely new way of running your business.
If you use the Octorate App on your phone, you will be able to use the following features:
Model Pics – App
If you have a standardized way of arranging the furniture and amenities in the rooms, Octorate got your back!
You can save a gallery of pictures in the details of each room/apartment.
The cleaner will only have to download the Octorate App to see the pictures and keep them as a reference when taking care of the accommodation.
This functionality is particularly useful for new staff members!
Maintenance notes – App
Let's suppose the cleaner spots a sink leaking in the bathroom of the accommodation.
They can easily leave a maintenance comment via the App, which will be visible to anyone in Octorate in relation to that specific room.
Why use Doinn & Octorate together
So let's say that the cleaner is using the Octorate app to get your apartment to "look like" you want it.
But, are they following any specific technique not to miss a spot?
Doinn has certified protocols and cleaners follow a very specific checklist to avoid losing any details when performing the service.
And remember the maintenance comment on the Octorate app?
You can follow up on that by creating a maintenance service with one of Doinn's vendor to solve the problem!
As well as a bunch of other types of services:
Deep cleanings

(To get the property ready after a long time been unused)
Common areas cleanings, and more!
On top of that get a Doinn host app in order to follow up and know when a service starts or finishes!
Great, right?
As you can see this partnership is thought of as making your life easier!
The partnership between Octorate and DOINN can really help you to improve and simplify the management of your property at the same time.
Thanks for reading and evaluating this solution for your business.
When using such a powerful property management solution as Octorate:
Your visibility online will be boosted
You will get much more reservations
Your workload will increase
However, we are offering you the right tools to keep all this under control!
DOINN and Octorate know it very well and aim at making operations for your property a smooth process.
Doinn is here for good, in more than 11 countries and 600 cities!
Do not worry about searching for trusted teams anymore, count us in.
See you in the next article! 👋👋
PMS integration is always good news at Doinn!
Today we are welcoming our recent integrated partner: TOKEET
Tokeet it's a great addition to our portfolio of integrations.
Tokeet offers a complete, fully integrated, and best-in-class suite of products for all aspects of a vacation rental business.
Their platform contains all the tools you need to grow from 1 to 1K rentals.
Providing a full-stack platform. Tokeet is a one-stop shop for vacation rental management software solutions.
This was more than an excellent reason to make an integration with them.
How does Tokeet works?
We know there are a lot of options to choose from on channel managers and tons of PMS solutions.
So we figured it was easier to share this video with you guys to hear the reasons directly from the horse's mouth 😉
Tokeet is a Property Management System (PMS) launched in 2016 with over 50,000 rentals.
Aimed at hosts and managers from 1 to 1,000 properties!
Tokeet's solutions make it easy for vacation rental managers to coordinate reservations across multiple channels, automate tasks, and perfect pricing.
Why use the Tokeet – Doinn integration?
Remember that article where we talked about preparing after post-pandemic traveling?
One of the keys to this new era is digitalization.
And having a strong PMS allied is a very important part of this process.
By using a powerful tool for your property management and hooking it up with our solution you will be one step ahead!
Doinn is not only a platform, it is an operations center!
Ready to help you get your properties ready when you need them!
How to integrate with Doinn?
Check out this video to see how tokeet PMS and Doinn integration works!
Activate the integration in less than 3 minutes!
You can also read the complete help page here.
Remember by integrating Doinn you will also have a mobile app to get real-time information on your property operations!
You don't want to miss our upcoming collaborations! Stay tuned for more of our partnership news on our social media and blog content!!
See you next time 👋🏻👋🏻