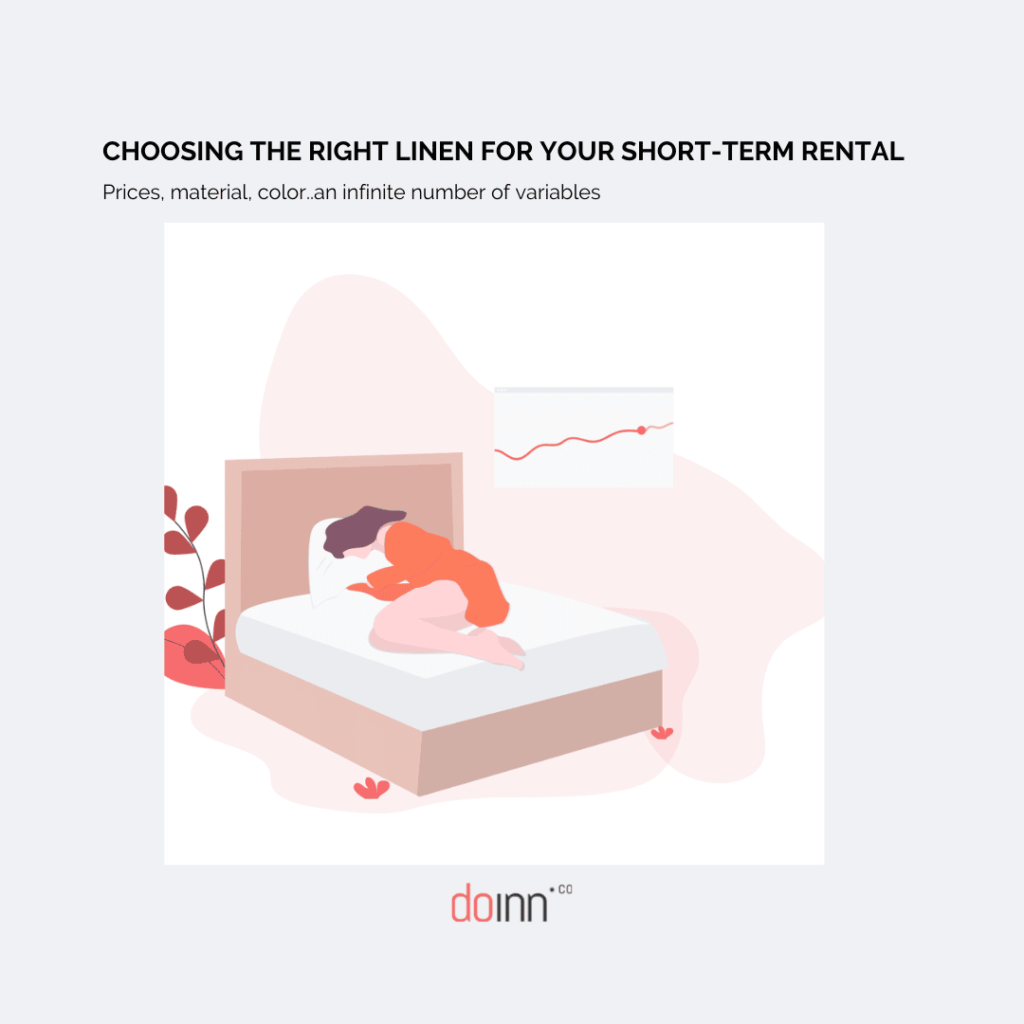 Linen choice has become more and more important
And it should!
Your guest will be touching your linen for close to 1/3 of their stay. Isn't it important that the quality of linen you provide is to the highest standard?
A well-made bed can make or break a vacation. A bad night's sleep can lead to a bad review for your rental. Because in the end, when you travel, you want something better than what you are used to at home.
We know you are starting to wonder what to get for the next season, and unless you are able to rent the linen, there are a few aspects to take in mind.
Are you struggling to choose the sheet material?
In today's world, we have so many choices of materials. All with their quality and advantages. Just choosing linen, there is cotton, polyester, polyfiber, microfiber, blends… So, how do you choose what material is the best for your vacation home and is easily maintained by housekeeping? Let's take a look at the most top-tier ones
Cotton:
Cotton: 100% cotton sheets and towels are a must in high-end accommodation. Just like your clothes, this will give you the most comfortable and homey feeling. Cotton is breathable and light. When used in a household setting, it's perfect for a good night's sleep and always the way to go. It's washable at high temperatures so perfect when working with professional laundry services. But in a high turnover short-term rental, cotton might be tricky to maintain. Cotton wrinkles easily and to give that nice crip it needs to be ironed professionally. Cotton is recommended to be used in a linen rental program with a professional laundry that operates a calender.
Cotton is a natural product so that means it is better for the environment and some linen manufacturers have recycling programs for end-of-life linen.
Polyester:
These sheets are manufactured to last in a heavy environment and intent to be beaten down. Although some might feel nice to the touch, the manufacturing of these types of linen is not very ecologically friendly and will lower guest satisfaction. Although a long lifespan, polyester tends to turn gray because the fibers can burn an industrial laundry process. This is mostly a problem with towels
Polyester-Cotton:
A combination that is used in a lot of full-service hotels. Although it is a very good option, guest experiences might vary depending on your supplier. It's easy to maintain and tends to wrinkle less.
Microfiber:
Although this is used a lot in short-term rentals, microfiber is a very un-ecological fabric. It feels nice to the touch, looks good on the bed, and is easy to maintain. Because microfiber is also a polymer, it could be less hygienical because it can't be washed at high temperatures which is one of the main characteristics of cotton
Are people really counting the thread count?
Look:
Let's start by debunking the myth. Thread count matters but to a certain extent. Thread count is the number of threads per square inch. The thread count on the packaging is a guideline from when the product was finished. After sheets are finished, they need to be washed so the fibers shrink, making the number of threads per square inch variable
When shopping for the right sheets, you want something that feels nice and breathable. The higher the thread count, the nicer the feel but the less breathable. The perfect thread count is not higher than 400 TC. Although a lower thread count doesn't feel as nice, it is used a lot in warmer areas because it is very light.
I can't emphasize enough the linen color:
You want to give your guest the cleanest experience in their short-term rental home, that is why white sheets should be preferred. Hotels only use white linen to improve quality control and make it easier to show that sheets are cleaned on a regular basis. We do understand that for short-term rentals, you sometimes want to switch it up and bring some color to the bed- and bathroom. This can easily be done by using a nice color throw or throw pillows.
The other advantage of using all white is consistency. When you would switch to a laundry service, they work with uniformity in order to not lose time during the sorting process. If you start using white linen in your rental, you will be future-proof.
Bottom line?
We all grow up with the cleaning standards of hotels in mind…
…don´t be afraid of losing the authenticity of the short-term rental by having hotel-like linen, it just makes guests feel better than home