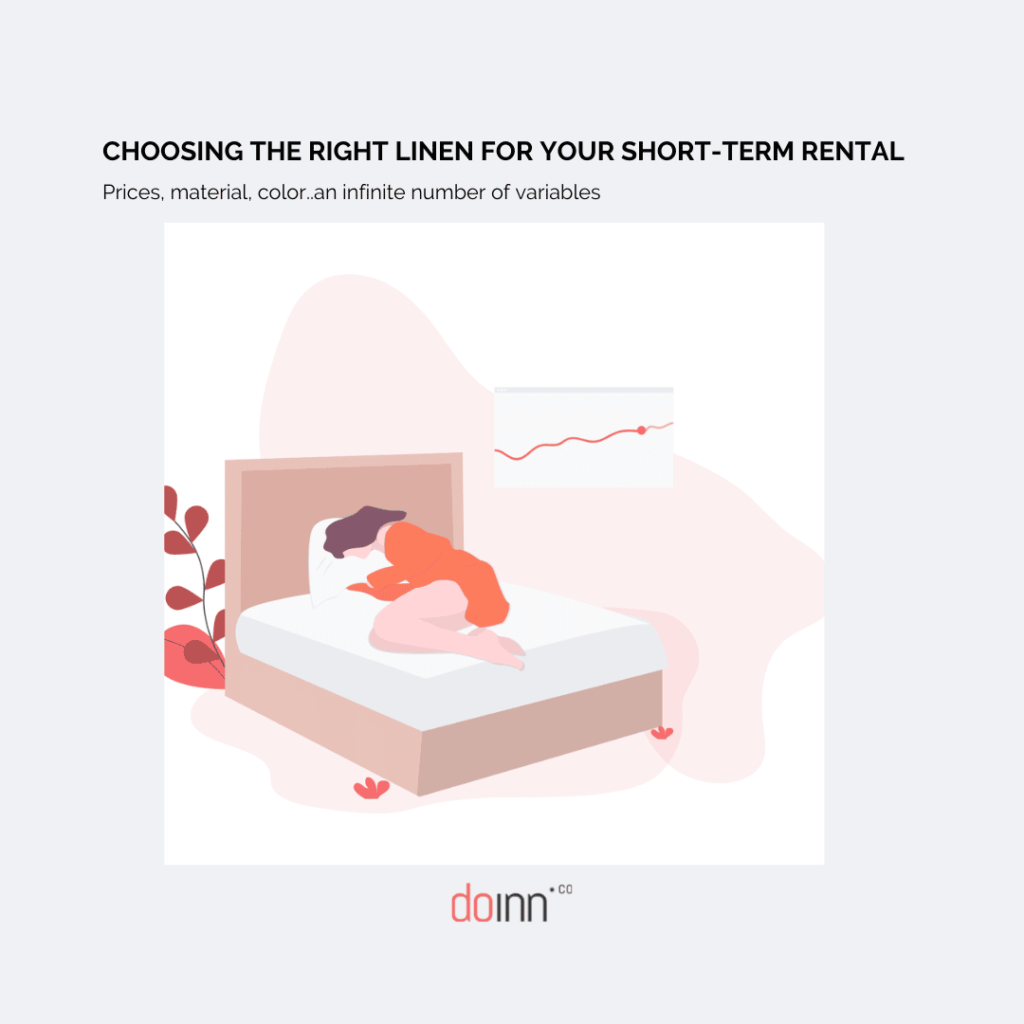 Linen choice has become more and more important
And it should!
Your guest will be touching your linen for close to 1/3 of their stay. Isn't it important that the quality of linen you provide is to the highest standard?
A well-made bed can make or break a vacation. A bad night's sleep can lead to a bad review for your rental. Because in the end, when you travel, you want something better than what you are used to at home.
We know you are starting to wonder what to get for the next season, and unless you are able to rent the linen, there are a few aspects to take in mind.
Are you struggling to choose the sheet material?
In today's world, we have so many choices of materials. All with their quality and advantages. Just choosing linen, there is cotton, polyester, polyfiber, microfiber, blends… So, how do you choose what material is the best for your vacation home and is easily maintained by housekeeping? Let's take a look at the most top-tier ones
Cotton:
Cotton: 100% cotton sheets and towels are a must in high-end accommodation. Just like your clothes, this will give you the most comfortable and homey feeling. Cotton is breathable and light. When used in a household setting, it's perfect for a good night's sleep and always the way to go. It's washable at high temperatures so perfect when working with professional laundry services. But in a high turnover short-term rental, cotton might be tricky to maintain. Cotton wrinkles easily and to give that nice crip it needs to be ironed professionally. Cotton is recommended to be used in a linen rental program with a professional laundry that operates a calender.
Cotton is a natural product so that means it is better for the environment and some linen manufacturers have recycling programs for end-of-life linen.
Polyester:
These sheets are manufactured to last in a heavy environment and intent to be beaten down. Although some might feel nice to the touch, the manufacturing of these types of linen is not very ecologically friendly and will lower guest satisfaction. Although a long lifespan, polyester tends to turn gray because the fibers can burn an industrial laundry process. This is mostly a problem with towels
Polyester-Cotton:
A combination that is used in a lot of full-service hotels. Although it is a very good option, guest experiences might vary depending on your supplier. It's easy to maintain and tends to wrinkle less.
Microfiber:
Although this is used a lot in short-term rentals, microfiber is a very un-ecological fabric. It feels nice to the touch, looks good on the bed, and is easy to maintain. Because microfiber is also a polymer, it could be less hygienical because it can't be washed at high temperatures which is one of the main characteristics of cotton
Are people really counting the thread count?
Look:
Let's start by debunking the myth. Thread count matters but to a certain extent. Thread count is the number of threads per square inch. The thread count on the packaging is a guideline from when the product was finished. After sheets are finished, they need to be washed so the fibers shrink, making the number of threads per square inch variable
When shopping for the right sheets, you want something that feels nice and breathable. The higher the thread count, the nicer the feel but the less breathable. The perfect thread count is not higher than 400 TC. Although a lower thread count doesn't feel as nice, it is used a lot in warmer areas because it is very light.
I can't emphasize enough the linen color:
You want to give your guest the cleanest experience in their short-term rental home, that is why white sheets should be preferred. Hotels only use white linen to improve quality control and make it easier to show that sheets are cleaned on a regular basis. We do understand that for short-term rentals, you sometimes want to switch it up and bring some color to the bed- and bathroom. This can easily be done by using a nice color throw or throw pillows.
The other advantage of using all white is consistency. When you would switch to a laundry service, they work with uniformity in order to not lose time during the sorting process. If you start using white linen in your rental, you will be future-proof.
Bottom line?
We all grow up with the cleaning standards of hotels in mind…
…don´t be afraid of losing the authenticity of the short-term rental by having hotel-like linen, it just makes guests feel better than home
I had a miserable fear until this interview! And it wasn't because it was Halloween time, but because I had the pleasure of talking to Manuel Giner, who has been in this short-term rental property industry for a good 17 years as CEO of Avantio – one of the most complete PMS on the market and also our latest integration.
Hope you like it.
Noelia: I always tell the story of how my grandma was renting her apartment in Benidorm in the 70's, but I think it's pretty cool that the sector was already ready and able to use purpose built software, before Airbnb came along and changed the sector. What did Avantio do when it started in 2001?
Manuel: We started in 2001 as a software for short-term rental operators. The biggest difficulty was convincing the companies to invest in technology, since most of them did things manually and offline.
Very few of them had websites, and those that did have one just had a static page. For that reason, our second product was a reservation system for them to put online. The channel manager started significantly later, and became a top seller, since it was one of the first to be dedicated just to short term rentals in the industry.
Noelia: What changes did Airbnb and the growth of the sector bring?
Manuel: Airbnb let customers who before would only have ever booked hotels choose a short term rental instead. It popularised a new way of going on holiday. By increasing its customer base, they increased our customers' sales too and brought lots of new companies to the sector, who also wanted to use our services.
Noelia: Avantio differentiates itself from its competitors with its Business Intelligence tools. What are the mostly used tools by your customers?
Manuel: We're different because we're an all-in-one solution that covers all the major processes of the business on the same platform, so our customers don't need to hire other companies or pay for extra services. Avantio provides a powerful software, a fully complete channel manager and an integrated reservation system. As well as its flexibility, it's ideal for companies that manage more than 50 properties and plan to grow in the future. I'd also point out our customer service, rated as the best in the sector. All of our customers can get in touch with us by phone (or email and chat too, of course).
Noelia: In 2018, you opened your first office in the United States, do you notice a big difference in terms of HR? What about with the property managers?
Manuel: From our experience in the US, we find it harder to retain good talent, as there is a culture of changing jobs frequently. In terms of the property managers, at the end of the day, they all want the same thing, a great software that makes their work easier.
Noelia: I know first hand that cleaning is one of the major headaches of the sector. Do you think that this part will become professional as well?
Manuel: I think so, and just as is happening in the hotel industry, the customer will become more and more demanding.
Noelia: Short term rental management companies are consolidating. Do you think the software companies will do the same thing?
Manuel: This already happens with software companies, it's yet to be seen if this is a good thing for property managers.
Thank you Manuel, see you at "The Avantio Partnership events"
How to integrate Avantio with Doinn?
Login to Doinn (first time)
After registering with Doinn, click on the option "Integrate PMS":
In the upper right corner, choose the Integrations option.
Avantio Integration
1. Choose the option "activate" Avantio:
2. Request the credentials from your Avantio account manager to enable the integration.
Avantio will send you a username and password that will allow Doinn to automatically receive all your apartments and reservations when you click "confirm".
3. Set up integration between Doinn and Avantio
Automate the services that you want to order with each booking and let us know your property's check-in and check-out times:
4. The integration is ready!
Your properties and reservations will be synced automatically. Starting today, you will have the properties ready for your guests with a simple click! If you would like the automation to be completed without having to be manually verified, please email integrations@doinn.co.