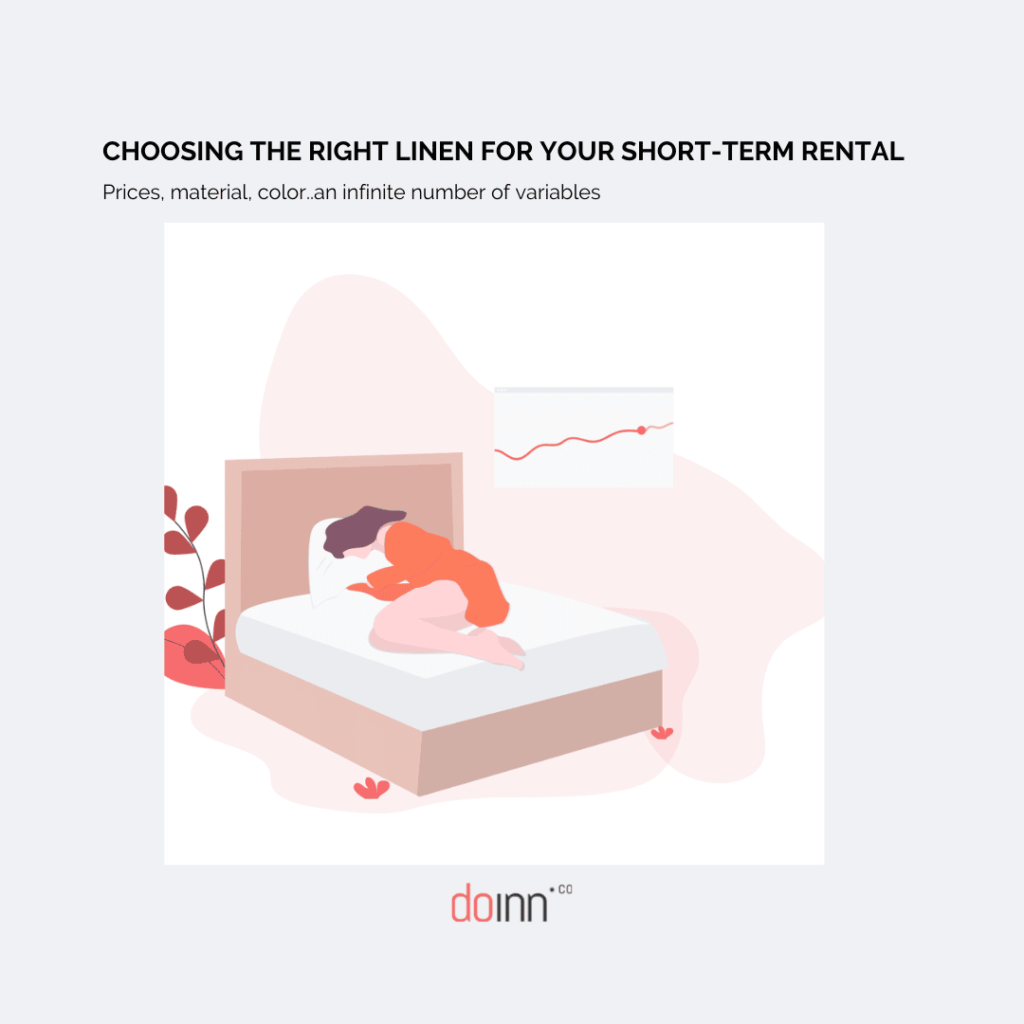 Linen choice has become more and more important
And it should!
Your guest will be touching your linen for close to 1/3 of their stay. Isn't it important that the quality of linen you provide is to the highest standard?
A well-made bed can make or break a vacation. A bad night's sleep can lead to a bad review for your rental. Because in the end, when you travel, you want something better than what you are used to at home.
We know you are starting to wonder what to get for the next season, and unless you are able to rent the linen, there are a few aspects to take in mind.
Are you struggling to choose the sheet material?
In today's world, we have so many choices of materials. All with their quality and advantages. Just choosing linen, there is cotton, polyester, polyfiber, microfiber, blends… So, how do you choose what material is the best for your vacation home and is easily maintained by housekeeping? Let's take a look at the most top-tier ones
Cotton:
Cotton: 100% cotton sheets and towels are a must in high-end accommodation. Just like your clothes, this will give you the most comfortable and homey feeling. Cotton is breathable and light. When used in a household setting, it's perfect for a good night's sleep and always the way to go. It's washable at high temperatures so perfect when working with professional laundry services. But in a high turnover short-term rental, cotton might be tricky to maintain. Cotton wrinkles easily and to give that nice crip it needs to be ironed professionally. Cotton is recommended to be used in a linen rental program with a professional laundry that operates a calender.
Cotton is a natural product so that means it is better for the environment and some linen manufacturers have recycling programs for end-of-life linen.
Polyester:
These sheets are manufactured to last in a heavy environment and intent to be beaten down. Although some might feel nice to the touch, the manufacturing of these types of linen is not very ecologically friendly and will lower guest satisfaction. Although a long lifespan, polyester tends to turn gray because the fibers can burn an industrial laundry process. This is mostly a problem with towels
Polyester-Cotton:
A combination that is used in a lot of full-service hotels. Although it is a very good option, guest experiences might vary depending on your supplier. It's easy to maintain and tends to wrinkle less.
Microfiber:
Although this is used a lot in short-term rentals, microfiber is a very un-ecological fabric. It feels nice to the touch, looks good on the bed, and is easy to maintain. Because microfiber is also a polymer, it could be less hygienical because it can't be washed at high temperatures which is one of the main characteristics of cotton
Are people really counting the thread count?
Look:
Let's start by debunking the myth. Thread count matters but to a certain extent. Thread count is the number of threads per square inch. The thread count on the packaging is a guideline from when the product was finished. After sheets are finished, they need to be washed so the fibers shrink, making the number of threads per square inch variable
When shopping for the right sheets, you want something that feels nice and breathable. The higher the thread count, the nicer the feel but the less breathable. The perfect thread count is not higher than 400 TC. Although a lower thread count doesn't feel as nice, it is used a lot in warmer areas because it is very light.
I can't emphasize enough the linen color:
You want to give your guest the cleanest experience in their short-term rental home, that is why white sheets should be preferred. Hotels only use white linen to improve quality control and make it easier to show that sheets are cleaned on a regular basis. We do understand that for short-term rentals, you sometimes want to switch it up and bring some color to the bed- and bathroom. This can easily be done by using a nice color throw or throw pillows.
The other advantage of using all white is consistency. When you would switch to a laundry service, they work with uniformity in order to not lose time during the sorting process. If you start using white linen in your rental, you will be future-proof.
Bottom line?
We all grow up with the cleaning standards of hotels in mind…
…don´t be afraid of losing the authenticity of the short-term rental by having hotel-like linen, it just makes guests feel better than home
Happy spring, everybody!
If you're spring cleaning your Airbnb you'll find this article very useful
If you are an Airbnb host, there is no better season than spring to spruce up your Airbnb and do some deep cleaning to your unit. As those summer bookings come near and warmer days start to approach, it is time to roll up your sleeves, open the windows wide, and give your Airbnb the thorough spring cleaning it deserves.
Here's why.
Regardless of how rigorous your cleaning routine is or how much your guests respect your space, time inevitably takes a toll on all Airbnbs. There are normal wear and tear, dings, but there's also random stuff that only a deep and thorough cleaning will catch. What if your guest flipped on a reading lamp only to discover that a leggy spider had crawled into the shade's pleated fabric and died? And what daily Airbnb cleaning routine checks for that?
Well, this guide does. Here is our comprehensive Spring-Cleaning checklist to help you make sure that your Airbnb is squeaky clean, and all nooks and crannies have been dealt with.
Your Airbnb Spring Cleaning Checklist:
Spring Cleaning Your Kitchen
• Empty all drawers and cupboards (one at a time!) and thoroughly wipe down surfaces. Throw away items that are no longer being used, replenish what is missing and reorganize the space.
• Clean the oven, inside and out.
• Clean the hob and cooker hood.
• Clean the microwave inside and out.
• Wipe down all appliances like the coffee machine, kettle, toaster, etc. Think about descaling the coffee machine and kettle if need be.
• Wipe down splashback. A solution of diluted vinegar put in a spray bottle and a window scraper works well for stubborn stains!
• Empty the fridge and freezer, pull out each shelf, and clean. Wipe down the exterior too. Again, use a diluted vinegar solution in a spray bottle or vanilla spray as this also does a stellar job.
• If possible, move the refrigerator out from its spot, then vacuum and mop where it normally sits. It's quite startling what you will find lurking behind there!
• Clean all rubbish bins, inside and out. If possible, power wash and thoroughly sanitize the bottoms of all your trash cans.
Spring Cleaning Your Bathrooms
• Remove dirt and dust from the bathroom exhaust fan.
• Empty the cupboards and drawers and wipe down surfaces. Throw away any items that are not being used, replenish what is missing, and reorganize the space.
• Replace or clean the shower caddy (if you have one).
• Scrub bathroom tiles, particularly the grout.
• Take a blacklight (if available) near your toilet to see any spots you might have missed.
Giving Your Laundry Some Spring Freshness
• Empty the cupboards and wipe down surfaces. Get rid of the items that are no longer being used, replenish what is missing, and reorganize the space.
• Give the washing machine and dryer a thorough wipe down, inside and out.
• If possible, move the washing machine forward and vacuum and mop where it normally sits.
• Clean out and reorganize the linen cupboard.
Spring Cleaning Your General Areas
• Remove cobwebs from the ceilings in each room.
• Dust picture frames, ceiling fans, tops of shelves, light fixtures, etc. Clean lamps (if you have some) and remove the fabric too to give it a deeper clean.
• Dust the window sills.
• Remove dirty marks from walls and doors – white magic sponge erasers work wonders, so does sugar soap.
• Remove fly screens from all windows and brush them down from top to bottom with a dustpan brush. Best to perform this outside!
• Where possible, move furniture out of the way, e.g., cabinets, shelves, beds, etc. and vacuum and mop over the places they normally sit.
• Wipe down every skirting board with a damp cloth.
• Do you have board games and puzzles for guests' use? Now is the time to go through them, clean, throw out what could no longer be used, and put things back in order.
• Clean all mirrors.
• Clean windows – a good squeegee, a little dishwashing liquid, and a splash of ammonia in a bucket of hot water works amazingly on your windows.
• Get down and scrub tight corners on your hard floor surfaces and other areas your mop doesn't properly reach, e.g., behind doors, under your kitchen bench and bathroom corners, under sinks and behind toilets.
• Sanitize light switches, remote controls, and doorknobs.
• If you have a fireplace or wood heater, have the flue cleaned and the unit serviced.
• Clean, or organize to have cleaned, your air conditioner filters.
• Remove sofa cushions and thoroughly vacuum the sofa bases. Vacuum over sofas where necessary too.
• Replace the batteries in smoke detectors.
• If you have carpets, have them professionally cleaned.
• Fall and winter tuck all sorts of goodies in between the window panes and window screens. Open up each set in your Airbnb and put that vacuum extension to use. Wipe down any mud, muck, and grime that still lingers.
Spring Cleaning Outdoors
• If you have a deck or balcony, give it a power wash.
• Remove cobwebs from undercover areas.
• Clean all outdoor furniture.
• Clean outdoor windows.
• Weed and tidy up the yards.
• Clean out gutters.
• Shake out or replace outdoor entry mats.
• Clean out the garage.
Pro tip: Don't Forget the Bigger Picture
Even if you've mastered your deep cleaning routine, a common mistake we see Airbnb hosts make is to overlook the 'bigger picture' presentation of the properties.
Some tasks, like removing cobwebs, window cleaning, carpet steam cleaning, and pressure cleaning may not need to be done every deep cleaning session, but they absolutely can build up over time and take away from the presentation of your Airbnb.
So, build a plan to vacuum out your window tracks, soak your range hood filters, dust those blinds, and spot clean your walls! 🙂
What if You're Strapped on Time?
As an Airbnb host, you have got more than enough on your plate with managing guest bookings as well as providing a wonderful and excellent guest experience.
Free up more of your precious time by opting for an Airbnb cleaning company (that's what we come in) that lets you schedule all of your upcoming deep cleanings, send messages and share notes, re-schedule cleanings, and even submit payments with just a few clicks in an online platform.
We are very excited to announce that our company was selected as one of eight startups to join the Google for Startups Residency program in Spain.
Google for Startups Residency brings high-potential and growth-stage startups the best of Google's products, knowledge and connections. All tailored-made and designed specifically to support the strategic and measurable growth of the business at scale. The program has a duration of 6 months and will take place at Google's Campus in Madrid.
According to Noelia Novella, CEO of Doinn, just the chance to get to really know and use Google's products was worth the effort to get there. However, all the networking opportunities presented by the program, both in Madrid and worldwide, is what makes her particularly enthusiastic.
Doinn is a housekeeping hub for vacation rentals aiming at assuring a hassle-free operation with a high quality final result, both for its clients and its vendors. We believe that our platform is a flexible yet well-structured solution that allows to save time and minimise miscommunication-related failures.
Our success is in part due to partnerships with a range of companies that have the same pay-it-forward mentality: Rentals United, Avantio, Bookingsync, Hostaway, Guesty and many others!  We are now looking forward to grow with Google and to empower as much as we can, the vacation rental ecosystem.
We are confident that working with Google will enrich our knowledge, enhance our leadership skills and increase our credibility and exposure to media, ultimately helping us to grow faster.