Too many PMS options? Meet Ynnov a recognized option in the short-term rental market.
And as usual Doinn only partners with the best options in the industry.
This is the case of Ynnov, a 100% Portuguese PMS developed especially for vacation rental.
Keep reading all the details about PMS Ynnov 😉
Developed 100% in Portugal and in Portuguese:
Ynnov is a PMS that has been evolving for 12 years, bringing together some of the best tools.
Since its origin in 2010, Ynnov has maintained a process of continuous improvement that guarantees you, today, maximum efficiency in the management of your properties on all fronts where you can operate.
With a Portuguese team that understands the needs of the local industry.
In the market for 12 years, in constant evolution and growth, the Ynnov platform is today the most complete PMS available for the Portuguese market.
With its wide range of features, the Ynnov software guarantees an efficient and automated management of the entire operation, whether short term accommodation, hostels, or hotels.
By using Ynnov, hosts and property managers can save precious time in daily management, regain quality of life and focus on what is really important for their business.
Decreasing the probabilities of human error will increase customer satisfaction and increase the profitability of your properties.
Ynnov is considered one of the best Portuguese PMS and Channel Manager, as it maximizes productivity, allows a professional level of management and, consequently, maximizes positive results.
Since the creation of Ynnov, in 2010, the team's main concern is the constant improvement of the software, to follow all the important developments in the evolution of the tourist market, as well as the main needs of its customers.
Therefore, today Ynnov guarantees maximum efficiency in the management of all aspects of the accommodation business.
Features:
The Ynnov software includes a powerful Channel Manager, which synchronizes with the main distribution channels, and a Property Management System, which allows customers to centrally manage all aspects of reservations and accommodation.
This also includes:
Communications to the SEF.
Emails and text messages.
Cleaning service
Maintenance
Online check-ins
Finance
INE/SREA reports, guest data, tourist taxes, digital keys, notifications and alerts, various automation mechanisms, staff, owners' portal, and statistics.
With the additional certified invoicing software, YnnovFAT, invoicing is as fast and easy as a single click.
The Ynnov mobile application, available for iOS and Android systems, allows customers to always follow the daily activities of their business, no matter where they are.
Whether it's check-ins and check-outs, cleaning, new bookings or other important aspects, it's all in the app.
Ynnov also allows accommodation owners and managers to easily develop a personalized and attractive website to directly promote their brand/accommodation and attract direct bookings, not tied to distribution channel fees.
The web design is customizable, with a modern design, intuitive use, and full compatibility with mobile devices.
Editing multi-language content is easily done directly in the PMS software.
Having your own direct sales channel allows owners and managers to increase customer loyalty as well as direct bookings.
For those who already have a website, Ynnov also has a solution, a booking platform that can be connected to any website or used on social networks.
Cleaning and maintenance features: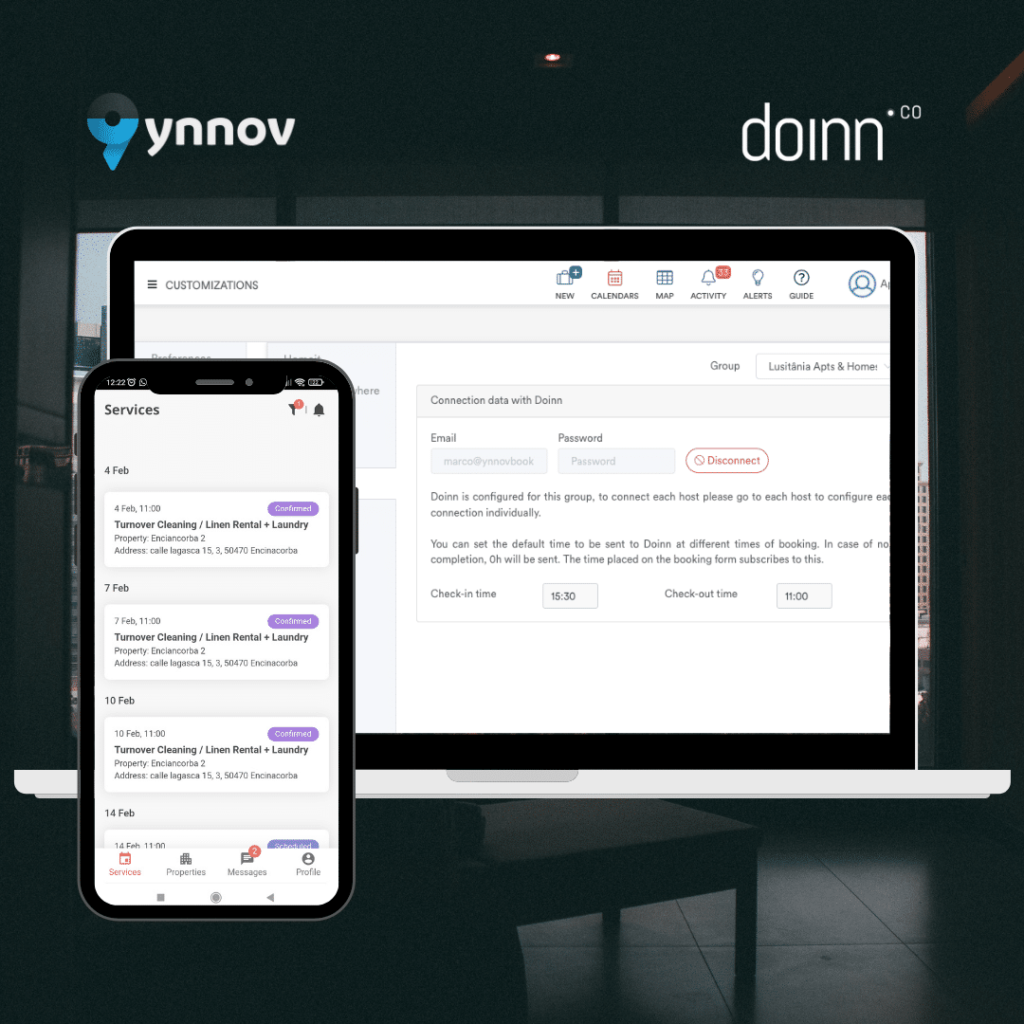 Thanks to the Doinn integration, you will be able to manage your services through your Ynnov account with just a few clicks:
Access your Ynnov account and look in the user menu, in the upper right corner, and select "Personalizations".
Once in the "Customizations" menu, select "Integrations":
On the left side bar and then select "Doinn". Enter the email and password that were used to create a Doinn account and press "Connect".
That's it!
You can check out more about the integration in this walkthrough.
What can you do with this integration?
Turn your bookings into cleanings
Get laundry services and linen rentals
Request any specific cleaning services offered by Doinn at your property.
Manage your business in the palm of your hand thanks to two software specialized in local accommodation.
And spend more time managing communication with your guests, booking prices, and more!
Not only vacation rental technology for your business is about getting a PMS.
With this in mind, a property management software releases you from a bookings nightmare.
As well as getting your property bids improved which is extremely important.
But when you have a vacation rental business there is a lot of processes.
Maintenance, cleanings, check-ins, and a lot more tasks that are regularly done.
And of course, there are a handful of apps and software available to help you do this.
Because of this, choosing a proper tool that adapts to your needs and type of business can be complicated.
Therefore that is exactly why you need to read this article, we teach some tech to oversee it all!
Obviously, we tell you all about it just keep reading 👇👇
Types of vacation rental technology:
As we told you in a recent article about 2022 trends. Digitalization is not going anywhere.
That being said, is just a matter of time before more and more industries have been impacted by the use of technology.
First, find out which tasks you would like to automate or manage.
Get an objective: reduce hours in operations, reduce problems in the property with guests, etc.
If you choose operations the first thing that comes to mind is cleaning.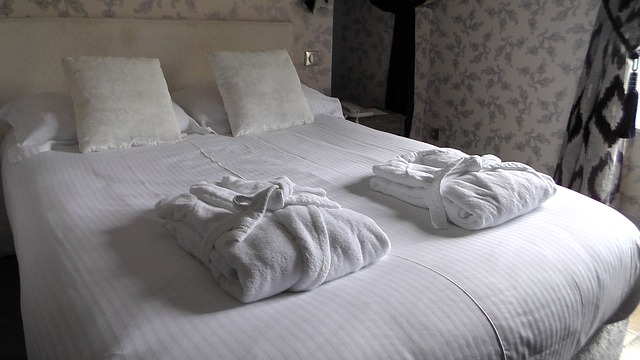 But you will also have:
Maintenance: plumbing, electricity, etc.
Manage staff.
Operate check-in and checkouts.
Get easier payments for these services.
Manage billings for services more transparently.
Sell extras to guests.
Also, keep in mind you will have to solve these issues for all of the properties you manage.
Don't know about you, but we get tired just thinking about it! 😫
Meanwhile, on the alternative accommodation market, we are able to find:
Thinking about improving your maintenance requests and services? Check some of these options:
Marketplace and other tools
Equally important, is being able to diversify your income.
And start upselling to your guests is the perfect excuse, here is how you can do this:
Our partner CHEKIN has just launched a new feature to sell experiences and more. Check it all here.
Revolutionize the experience of your guests, increase the benefits of each reservation, get better reviews and get more direct reservations.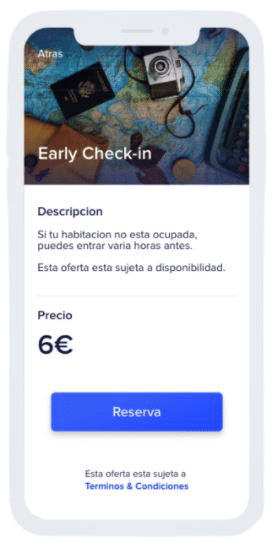 Similarly, other things such as luggage storage when guests check out can be arranged to check our partner LUGGIT APP.
Not only luggage but also if you want to sell breakfast items or skies rental?

Check out BNSELLIT.
Ultimately, HOUSEKEEPING platforms are our favorite as we are the masters of this subject.
Therefore check all the details about the platforms we are comparing today:
DOINN vs VRscheduler vs Breezeway
Doinn connects top cleaning and linen rental companies with years of experience to property managers.
As a result, helps to standardize processes for alternative accommodation.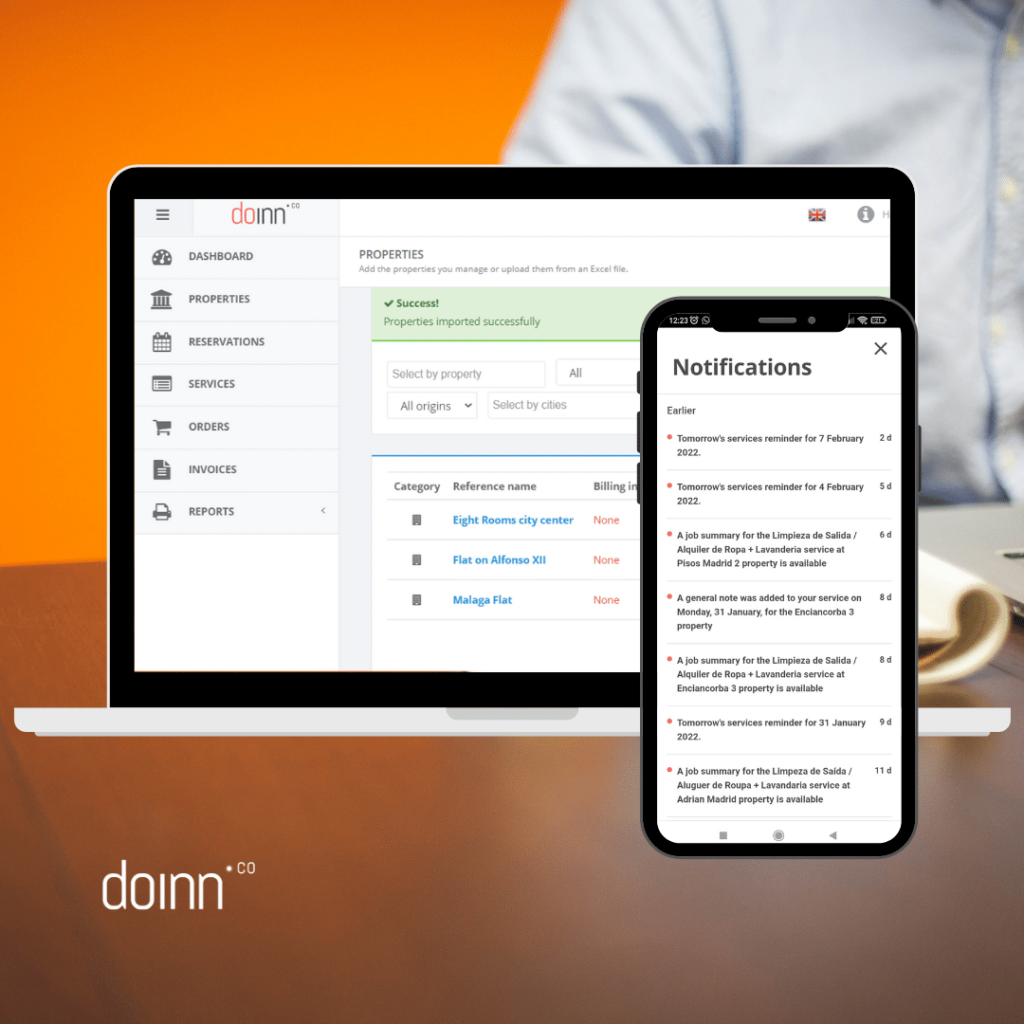 Property managers, BnB's, hotels, and property owners in general, can have a platform to order services based on their booking calendars.
Buyers can follow up on the services performed in their properties through our app.
Doinn has been on the market since 2015 not only offering cleaning services but also: Linen rental, Laundry, Amenities, Deep cleaning, Move-in and move out services, Check-in, and Check out agents.
Now Doinn is available in 11 countries and more than 600 cities.
Doinn is more likely used by property managers and B2B rental management companies, Colivings, and other types of alternative accommodation providers.
In this case, VRscheduler offers operations and housekeeping Management for 10-100+ vacation rental, short-term and long-term properties.
VRScheduler is a platform for scheduling and tracking cleaners, inspectors, and maintenance staff.
VRScheduler works with your booking software to improve workflow. Save time, optimize labor and minimize costly mistakes.
VRScheduler allows different vendors to update the system and streamline employee task programming as needed.
Drag and drop a scheduling calendar for vendors such as cleaning companies, security companies, hot tub service companies, and so on.
Most likely used by: rental owners and management companies who manage teams and outsourcing services.
What is Breezeway?
Breezeway's property operations platform helps coordinate, communicate, and verify detailed work at properties, and delivers the best service experience to guests and homeowners.
Combining deep learning technology, robust property data, smart messaging, and mobile-first task management.
Breezeway is bringing service optimization to the property management space.

Their target markets include vacation rental managers, short-term rental operators, hotels & hostels, resorts, cleaning/maintenance services, & residential managers.
Comparison chart:
We have built this chart in order for you to be the judge in terms of the needs and tech of what you need.
Take a look:
This information has been collected through online resources, we strongly suggest visiting this platform's website if you need more info.
Finally, we believe this comparison chart is the best way to understand what you will need to have in consideration.
Why choose Doinn?
Now, why do we think Doinn is your best option?
Doinn has been in business since 2015, understanding the needs of the alternative accommodation market and improving our product.
Flexible and scalable.
Integrate with more than 10 TOP market PMS as well as iCal from airbnb and bookin.com
Buy certified services with proven quality.
Real-time service notice through the Doinn app.
Efficient communication with the cleaning staff through the app. (Just like WhatsApp!)
You will get an outstanding team behind the platform, online resources, and customer support 24/7.
The cleaning staff is able to report issues with photos, directly in your job summary for every service.
If by all means you still feel that you cannot be part of this, probably means you are a small owner with 1-2 properties.
In that case, we strongly suggest looking at the other options we presented or check this great article too😜
Thanks for checking out another one of our articles!
See you in the next one! And remember that: Doinn is here for good 😎
A Channel Manager is definitely an extensive subject and of course here at Doinn, we care about giving you all the details on this type of solution.

Moreover, providing clean and tidy accommodation to your guests is a big part of your operations.

That is why we want to offer you various solutions and integrations.
Today we are announcing our integration with a new property management solution: let's welcome Octorate!

A complete suite with different features that will help you run your vacation rental company.
See all the details about Octorate here below 😉
Octorate – the perfect solution for property management
Thanks to the Octorate Channel Manager you will boost your visibility online and hence increase your reservations.
Octorate is Booking.com, Airbnb, and Expedia's preferred partner.
As well as being integrated with +150 OTAs around the world.
Allowing you to potentially open your property to sell.
A channel manager like Octorate will definitely simplify your business and your daily activities.
You will have the chance to start getting many reservations on various portals.
But you can manage all of them from one platform (rates and availability update, restrictions, etc).
With Octorate, you can also start getting reservations without any commission costs thanks to the Booking Engine.
It is a booking platform compatible with any website and fully customizable.
However, in case you do not have any web page, you can get the OctoSite.
A real website that can be set up in a few minutes, already linked to the Booking Engine.
Housekeeping with Octorate & Doinn
Octorate is not only a great tool for property management because of all the channels you can work with.
But also an in-cloud platform compatible with any device and you do not have to install any software to use it!
By combining both powerful solutions you will have a new way of running your business with Octorate & Doinn.
Add the iCals of your properties to your Doinn account, you will be free of the hassle of cleanings.
Automate the turnovers with every new booking coming from the different channels.
This combined with the Octorate app will be a completely new way of running your business.
If you use the Octorate App on your phone, you will be able to use the following features:
Model Pics – App
If you have a standardized way of arranging the furniture and amenities in the rooms, Octorate got your back!
You can save a gallery of pictures in the details of each room/apartment.
The cleaner will only have to download the Octorate App to see the pictures and keep them as a reference when taking care of the accommodation.
This functionality is particularly useful for new staff members!
Maintenance notes – App
Let's suppose the cleaner spots a sink leaking in the bathroom of the accommodation.
They can easily leave a maintenance comment via the App, which will be visible to anyone in Octorate in relation to that specific room.
Why use Doinn & Octorate together
So let's say that the cleaner is using the Octorate app to get your apartment to "look like" you want it.
But, are they following any specific technique not to miss a spot?
Doinn has certified protocols and cleaners follow a very specific checklist to avoid losing any details when performing the service.
And remember the maintenance comment on the Octorate app?
You can follow up on that by creating a maintenance service with one of Doinn's vendor to solve the problem!
As well as a bunch of other types of services:
Deep cleanings

(To get the property ready after a long time been unused)
Common areas cleanings, and more!
On top of that get a Doinn host app in order to follow up and know when a service starts or finishes!
Great, right?
As you can see this partnership is thought of as making your life easier!
The partnership between Octorate and DOINN can really help you to improve and simplify the management of your property at the same time.
Thanks for reading and evaluating this solution for your business.
When using such a powerful property management solution as Octorate:
Your visibility online will be boosted
You will get much more reservations
Your workload will increase
However, we are offering you the right tools to keep all this under control!
DOINN and Octorate know it very well and aim at making operations for your property a smooth process.
Doinn is here for good, in more than 11 countries and 600 cities!
Do not worry about searching for trusted teams anymore, count us in.
See you in the next article! 👋👋
Tourism in 2022. How did you imagine it? We bet, nothing like what we've experienced the past two years.

Many things have changed and that is precisely what has been discussed lately.

Doinn has been present at two key events recently: The travel innovation summit and FITUR.

We tell you a little about the events:

The travel innovation summit is a private event organized by a group of investors: Top Seed Lab.

With TOP characters in the world of tourism: Viajes el corte Inglés, Mélia, UNWTO and many others.

Discussing tourism trends and separating them from simple passing occurrences. Was the main subject of the event.

The themes that will really arise in the different tourism subsectors.

In the case of FITUR, surely you already know about this great event.
FITUR is a world-class event that has positioned itself as a tool for tourism. Its mission is to contribute to the recovery of tourism and grow the sector.
That's exactly why we thought it important to write and discuss with you the trends, learnings and many interesting facts happening in tourism today.
It is important to highlight that these topics have been commented on in both events, which is why they've been selected for this article.

Sure there are many more things happening in this world but without a doubt, the topics that we deal with today here will continue to give something to talk about.
Let's begin!
The digital transformation has no turning back
If there is something in which both events agree, it is that digitization in tourism will not go anywhere.

The pandemic has pushed all industries towards digital.

Terms like: smart tourism, smart travel, smart cities, are just a few that are constantly being heard.

And as a consequence of the pandemic, there was a great explosion of tourism towards the digital world.

And we are not just talking about using social networks or creating a website.
If not how new disruptive business models are transforming tourism for the future.

Below 3 examples of new businesses that are digital, disruptive, and innovative:

Can you imagine a completely digital luxury hotel? It is CitizenM's proposal, you make the reservation online, check-in/check-out kiosks, and without seeing a person. Approaching a more modern and young traveler.
Borders are still closed in half the world. But in Atlanta with illuminarium you can visit amazing places in the world in its immersive experience.
Automation in hotels. Some hotels already turn off lights and regulate temperatures through devices and even welcoming robots read everything in this article.
If these 3 examples show us anything, it is that traditional tourism models will have to work to incorporate new verticals.

Because tourism has changed forever.
The opportunity of rural tourism
Another reality that was a consequence of the pandemic.
The main reason is almost obvious, after lockdowns we all want to reconnect with nature and be away from our noisy cities.
The problem?
These rural areas were not ready for change.

But it happened. And as a global phenomenon: the United States, China, France, Spain, and many more.

They have seen the numbers in their rural areas grow and now the job is to improve the user experience.
These are some of the actions for rural areas:
"Make my move" is an online platform where communities offer work and a rural area to live for nomads.
"A nomadic island" is Madeira's proposal offering travelers a free community workspace, Wi-Fi, and exclusive events every day at the John dos Passos centre.
The digital nomads are here to stay
If you remember, a few months ago we told you exactly this in our article about digital nomads.

According to this study, there are 4.8 million people who consider themselves nomads in the world.

And surely the figure will continue to increase, which is why many countries are preparing to offer advantages to this type of traveler.
Because not everyone wants to go to an island in Thailand 😉

In fact, rural tourism in some areas is preparing to also become a destination for teleworking and not just ecotourism.
These are some of the things that are happening in relation to digital nomads:
Brian Chesky, CEO of Airbnb said on Twitter that he would live in Airbnb this year to try the "nomad" experience first hand.
Do you want a discount on your long stays? Use stayforlong and get a property that suits your needs.
Can you imagine 99% of public services online 24/7? This is possible in Tallinn, Estonia. It was named one of the best cities for remote work and with a very fast and cheap visa process.
New technologies in tourism
Smart cities are already here and they are not new.

But what can we expect from the future?

Based on the lectures and discussions of some of the experts at these events.
We tell you some very interesting ones:
Tourism and the metaverse
Although the video of Iceland seems funny to us, the reality is that we are increasingly moving towards a world in virtual reality.
And perhaps the day will come when the metaverse will also come to our decisions about the vacations or properties that we are going to rent.
This is the case of the animal life reserve in Singapore that offers virtual reality experiences with animals.
In essence, the blockchain is a block within an information chain.
This chain has the peculiarity that it cannot be altered.

To modify any data registered in the chain, it must be modified in all the devices of the chain, so it becomes an unbeatable system.

This means that it is not only viable for cryptocurrencies which is what we listen to the most.

In fact, there is a home-sharing platform Beenest. Based on the blockchain.

Their technology is used to put guests in touch with hosts so they can organize and pay for stays.
What is different?
There is no middleman who charges large commissions in the process.
But it keeps payment, reputation, and arbitration protocols in place, giving users greater security.
To better understand, watch this video:
Although we don't have a magic ball, we know that some of these trends will continue with us in 2022.
And at Doinn we strive to share the latest developments and news with you, we hope you have enjoyed this article as much as we have.
See you next time 😉
Digital nomads are here to stay definitely, they are no longer a "secret cult".
Especially after the pandemic situation, even there are top countries offering amazing views.
And other countries even give special visa conditions for these travelers such as Malta, Romania, Cayman Islands, and others.
That is why today we are sharing some of the needs digital nomads have when taking into consideration a rental property.
Only in the US, 40% of digital nomads are an average age of 32 years old.
And in the future, this age segment millennials will represent almost 40% of the global population.
Also how you can adapt your rental and why you should do this.
The main reason to understand digital nomads is most of them travel when they work.
And, of course in the future, they will be a very important piece of the pie in the market.
So you need to be ready since yesterday!
Always Connected
It might sound obvious but this is one of the major problems of the digital nomads when finding a property to rent.
You can make one of these tricks to enhance your internet and have this one covered.
Change the location of your router, sometimes if this device is store away somewhere in the room something can interfere with the signal. Move it to a tall place without any disturbances such as tv, radios, etc.
Check if there is anybody stuck to your network, remember you can have a guest user predefined for your guests and then check periodically for any intruders.
If your house is too big or has different floors you can always add a wifi repeater to enhance the signal.
These are just a couple of things to get your rental ready for the digital nomads needs connections-wise.
Space efficiency
If you have check social media the past year for sure you saw a bunch of pictures in which people renovated spaces to convert them into home offices.
Well if you do not have it on your property even if it's a vacation rental, you should adopt one little space to it. Check out these examples.
A desk and a chair are vital even if it is not big but the key here is to make a space even if it's little but with comfort for concentration.
Get a laptop stand! Your guests will love it as this is a must and a lot of people even if they are not digital nomads are still working remotely!
Use dead spaces in your apartment it can be within the bedroom or maybe below a staircase there are a lot of creative ways to make this office desk amazing!
You can always go to Pinterest and get more inspiration on the matter 😉
Improve the experience
We have already discussed, how to prepare your vacation rentals after the pandemic situation.
Another important thing for these guests is maintaining their work-life balance there are actual studies that indicate they work more than older generations.
This might sound contradictory but the reality is if they work more than 40 hours per week their free time is sacred!
How can you help?
Add experiences to your package, so Airbnb has been the king on this lately.
Experiences are revolutionizing the way users are sharing with other people, so here are some you can add:
Partner with local businesses to offer your users discounts and offer them a really nice experience with the locals. They would love it!
Make a local guide itinerary! Help them understand how your city works and how they can enjoy it so much more!
You can always add any extras to your service like rent a bicycle or ski equipment you can do it by creating a marketplace check it here.
An interesting fact is that the owner or rental manager can be the same owner of the experience so you can uplift your revenue a bit with this!
Stay green
For this audience staying green all the time is a big fact!
So keep getting some recycling bins as most of these users want to keep their environmental practices while staying at any other property.
They appreciate products that are chemical-free/plant-based because they are better for the planet and also can be better for people who suffer from skin conditions and allergies.
Do you happen to have any plants? They make the rental way more "home-like" and they are incredible to boost up your decor on any room.
Another important thing is to add devices that are "energy efficient" LED bulbs, LED lamps, electrical power strips with on/off switches.
And last but not least take advantage of this to talk the guest through all of the efforts you make to be greener 💚
Guests or tenants would love it and even recommend your lodging to their friends so think about this when following all of the below steps.
We hope this was useful and you will be ready for your future digital nomads and millennials guests 😉
About Doinn:
Doinn is the key to transforming your rental management operations.
Schedule, manage, and follow up your services all in one place.
Reduce the time and costs associated with managing properties while offering renters a seamless experience across their entire rental journey.
Doinn gives vacation rentals and Airbnb hosts tips to understand and adapt to new tourist demands. We have so many challenges within the vacation rentals industry right now, either you have an Airbnb flat or a cute cabin to relax. That's why in the past few posts we have addressed the incredible and inevitable impact in our industry but today we want to give you some positivity. Today, we are prepared to introduce you to some of the upcoming trends for vacation rentals which users are expecting. We already know what customers want to save flights (For god's sakes!) But within the Doinn team, we wanted to take it a step further and share some of the top needs the "new-old tourists" will look for in the near future. As we like to say "Doinners" are here to help! Let's dig into it!
1. Go the extra mile on Safety & Hygiene.
One common thought that is guaranteed is that travelers will be asking for more strict measures to ensure their safety. This means, try to reduce to the maximum any encounter with other people outside the bubble, so take some of these actions: · Temporarily close all of the common areas within your rental. · Make a guidebook of all of the restrictions and important covid-19 information in your city or country (Update regularly) · Make sure you are automating most of the processes for the vacation rental itself. Using vocational software or upgrading your housekeeping tasks to a service like Doinn Try to maximize your efforts in terms of deep cleansing and having a visual way to demonstrate it to your customers, write a blog post about it or share a video of new measures in your rental. The stricter your guidelines while travelers stay in your rental, the more possibilities of positive feedback you will have.
2. Transform your vacation rental options.
You will need to reinvent your services from global to local, this means that you can develop new uses for your vacation rental as per the market needs. For example: · Transform one room into an office and attract remote job workers. (Which regularly look for new places to move). · Adding activities to your rental description tells travelers why your destination is more special than others. (There is a huge impact on leisure in post-pandemic scenarios · Also add some touches of home to your spaces as people will travel within their bubbles and close family members. Another important fact is to adapt and incorporate flexible cancellation or change policies. This is one of the top priorities for younger users according to an Expedia report.
3. Personalization and Customer Experience.
Because of the pandemic, warm greetings like shaking hands is a custom of the past. But there are still ways to keep creating an excellent experience for your vacation rental renters. Keep in touch with your guests through an open channel: whatsapp, telegram, or email. It's even more important these days to keep open communication. Also remember, everybody likes a freebie, and if you include some masks or personal hand sanitizers, people will recognize your good hosting skills.
4. Automation is the key to success.
We are not talking only about contactless payments, there is a wide variety of options to introduce into your rental. Keyless entry: you can use remote apps in which you send an electronic key to open your apartment to code digit locks inserted directly into your vacation rental, available in different price ranges. Home automation: This sounds like The Jetsons but we promise you it is not, from controlled heating or cooling systems to a whole panel of lighting and voice controlled devices, you can ensure your guests are getting everything they need! Adding 3D or AI bots to your service: You can now go from facebook type of automatic responses (Bots) at a very reasonable price to 3D virtual reality videos from your amazing Airbnb homes, try adding some cool tech innovations and see how your guests react to them. We are sure they will love it. These are just a couple of nice examples to boost up your vacation rentals, from safety to new techie options we are certain the guests will appreciate them. Remember we Doinners love to help you keep everything nice and tight for your upcoming seasons. So if you are still struggling with your cleaning processes during these difficult times contact us to know more about our plans and services we will be more than glad to assist you.
The COVID-19 outbreak has made us rethink the way we work, creating a shift towards a more flexible and digital way of life. Although having a vacation rental business does not consist of being in an office all day, there are certain tasks that up until now have required owners to be physically present in their property. If your vacation rental is far from your main residence, you may have realized that the given situation could actually be a good opportunity to start managing your business remotely.
The growth of the vacation rental industry in recent years has generated a large number of tools, platforms, and technologies to help owners manage their businesses from the comfort of their own home. These resources help to save a significant amount of time and effort while also providing a higher quality of service to guests.
Is it possible to manage your vacation rental remotely?
Of course! As previously mentioned, there are currently a wide variety of tools and apps that can help you manage your property remotely without any problem.
However, it's always recommended to have a trustworthy person nearby in the event of an emergency. You can also invest in vacation rental property management software, or hire a property manager that offers you a comprehensive management service.
If you're just getting started and wondering where to invest, distance no longer has to be a deciding factor. Instead, do research on whether the area is a touristic destination and what kind of investment it requires.
Here's what you should take into account to manage your vacation rental remotely:
Things to keep in mind
Keep guests informed
If you've decided to work remotely and will therefore not be present to welcome your guests to the property, you should thoroughly prepare for it beforehand. Something as simple as creating a welcome guide with information on the area (activities, restaurants, cafes, or any extra details that might be of interest) can go a long way.
Don't forget to include instructions and information related to the property itself, such as the use of appliances, emergency contacts, or house rules. Going above and beyond will avoid any unexpected events in the future.
Automate communication with your guests
Great guest communication is essential to getting good reviews and increasing your bookings. Even for the most experienced hosts, it's difficult to stay on top of everything from reservation requests to concerns your guests might have. Automating messages will help minimize repetitive tasks and quickly fix potential problems that might arise.
Provide the necessary technology
Make sure you have all the necessary devices and technology for tasks that were once done in person. Here are some examples:
Check-in and Check-out
Regardless of whether you remotely manage a vacation rental or not, there are many tasks that can be automated to reduce your workload. While some hosts like to welcome their guests personally, automating this process can save you a lot of time and allow for more flexibility when it comes to bookings. In the event that your guests arrive late, you won't have to worry about a drastic change of plans.
There are smart locks that work with codes so that guests can access and leave your home without any help. If you feel like this is not the right option for your business, you can also hire a company to manage the check-ins and check-outs of your vacation rental.
Smart homes
Also known as 'smart homes', these properties have a variety of technologies to control and automate certain things like temperature or lighting adjustments. In addition to being able to control them remotely, these tools help to reduce energy consumption, provide security, and turn your vacation rental into a more comfortable place.
Even if you have highlighted the house rules of your property, having a noise sensor can help you control the volume of your guests and avoid complaints from neighbors.
Use tools and apps to facilitate property management
Cleaning services
One of the most important aspects to keep in mind while managing your property remotely is cleaning. When it comes to this task, every owner strives to provide the tidiest rental for their guests. Hiring professionals who are in charge of cleaning, disinfection, and laundry will ensure that the job gets done consistently and with high results every time.
There are currently platforms that, apart from helping you hire a great team of cleaners, also allow you to monitor all tasks. This means you can keep track of what's going on at all times and run your business much more efficiently.
Vacation rental management software
Managing reservations is another task that requires attention. Vacation rental software like Lodgify allows you to take full control over your business, giving you access to a centralized platform where you can manage all your reservations, calendars, and rates (from both your website and other vacation rental listing sites like Airbnb and Vrbo).
Conclusion
Now that you've seen the resources available to automate tedious tasks and manage your vacation rental remotely, you can get started! If you take advantage of the previously mentioned tools, the location of your property no longer needs to be an issue.
Incorporating these solutions into your business will not only give you personal benefits, but it will also make your property more attractive, safe, and profitable in the long run.
Linda Fox from Phocuswire, who I am a huge fan of, published last week a fantastic article about the participation of Brian Chesky in the Reuters Next event where he discussed the topic of Tendencies in Tourism.
In my opinion, Chesky touches upon three important points:
Tourism will never be the same as before the pandemic which doesn't mean that the same volume of business won't be regained on a macro level, just the revenue will come in a different form;

There will be a significant decrease in business travelling, however – in spite of being possible now to work remotely and of many of us having moved away from the cities – we need to come back, even if only so often, to the city where our office is;

More people will choose to travel by car and to smaller towns rather than to popular destinations, switching from mass tourism to a kind of tourism that is more meaningful for our lives.
In 2019 92% of Doinn business came from Lisbon, Porto, Madrid, Barcelona and London. In 2020 these cities have represented only around 45% of our revenue and the estimate for this year is even lower (not taking into account the new markets we have been gaining our position in such as the U.S.A or Mexico).
Many of big European management agencies are located in these cities and, even if they managed to reduce they fixed costs by cutting their rents or laying off a big part their employees, the focus on medium and long-term rentals of their properties doesn't seem to be enough for them to stay alive in 2021 if Chesky is reading the market correctly.
Furthermore, if we take into account that many owners of beach and mountain houses live in these big cities, we will understand that the strategy that they followed last year – to manage their houses remotely, with certificate cleaning and laundry, linen and toiletries that we make available at Doinn – will still be a trend in 2021.
I share the link to the complete article:
https://www.phocuswire.com/Airbnb-travel-trends-and-crises

Share your opinion with us and with our followers!
On September 29th and 30th there will be an exclusive conference on how to get direct bookings for tourist accommodation: rentals, hotels, hostels and the service apartments sector.

Since Covid changed our world, some travelers have preferred to make reservations without intermediaries such as Airbnb, Booking or VRBO, contacting the managers or owners of these properties directly through their websites or even Facebook.

Many of our clients tell us that one of the main reasons is because they feel more comfortable being able to ask them directly about the extraordinary cleaning measures they are taking, since the measures taken by the large platforms on this issue do not seem sufficient. Which is why, in recent months, we have been creating so much documentation that our clients can share with travelers on their web pages and / or by email or phone, including the 24 webinars, podcasts and interviews on cleaning protocols.

There is no doubt that making reservations directly can bring some risks to both travelers and managers. Both the previous reviews of the manager and guest, as well as the efforts to avoid fraud both at the payment level and at the level of properties that do not exist, have always given enough peace of mind in the industry.

And it is that in the new world, the margins have been tighter. In order to get the few bookings that are being had this year, many managers have reduced prices "to get to sell something and not lose money", so there is no much space for commissions to third parties

This conference organized by Damian Sheridan, with Deborah Labi and Gianpaolo Vairo as co-hosts , has a very clear goal: to help the community develop the confidence necessary to increase revenue by removing the commissions from the platforms. The challenge: not having to pay the same or more in advertising to get direct traffic.

Our CEO, Noelia Novella, is one of the 50 speakers. She will not talk about cleaning or the Coronavirus, but about the methodology to define and monitor objectives that Google uses, the so-called OKRs: objectives and key results.

The advantage of being an online conference is that it can be viewed on a delayed basis and filter the presentations that are most interesting to you. For less than € 130 (£114), you have an amount of content to learn and enjoy, super varied and almost unlimited.
Many of the speakers and sponsors, including Doinn, will do promotions and discounts. From what we have been seeing, used properly, they will make the conference pay for itself.

Important detail: the lectures are in English, the speakers are from around the world.

Here's a little appetizer from Noelia's arena and an interview of her, super cool with Deborah Labi https://conference.bookdirect.show/noelia-novella/

Let's take advantage of this slowdown to learn, to be more competitive, to understand what happens outside our comfort bubble

A lot of strength to all

May 2020
There's a lot going on in the holiday/vacation rental sector right now as various locations come out of lockdown.

Here are some short term rental news stories that caught our eye in the last few weeks.

Here are some short term rental stories that caught our eye in the last few weeks.

Why the cost of your hotel or Airbnb could double after coronavirus
Skift CEO Says The Biggest Thing To Save The Hotel Industry Is A Coordinated Response
Refunds from Airbnb, Expedia and Booking.com in doubt, warns travel expert
What will post-pandemic travel look like?
Portugal's Airbnb owners resist push to low-rent housing
Edinburgh council to buy or rent empty Airbnb properties off desperate landlords
France to Build Online Platform to Rival Airbnb, Booking.com
---
Why the cost of your hotel or Airbnb could double after coronavirus

Due to occupancy restrictions and increased cleaning costs, it's predicted that travel accommodation costs could double or even quadruple.

Holidays could double in price once lockdown is lifted because of a raft of new safety measures being imposed on hotels.
Travel accommodation providers could be forced to increase cleaning budgets, leave rooms vacant between guests and install expensive equipment to prevent the spread of coronavirus when holidays resume. Some hotels in Spain have been told they can only reopen if they keep occupancy at 30pc or below.
---
Skift CEO Says The Biggest Thing To Save The Hotel Industry Is A Coordinated Response

He also predicts that STR guests will be traveling with their own cleaning products

---
Refunds from Airbnb, Expedia and Booking.com in doubt, warns travel expert

With all the initial talk (and outcry) that the online travel companies would refund travelers, it appears that this may not in fact be the case.
According to this article from RSVP, "Expedia are currently facing a €5 billion refund bill, Airbnb's is about €2 billion, Booking.com is about €1.6 billion"
Many travellers use 'middle men' to get a cheap price on their flight, hotels and accomodation. However, in light of the global pandemic, the travel industry is on its knees from top to bottom.
The point being: if you thought it was hard to get your money back from airlines, just try getting it from the company between you and the airline.
"Intermediaries are in real trouble because they're really messing people around," says Irish travel expert and journalist Eoghan Corry.
---
What will post-pandemic travel look like?

The travel industry has been one of the hardest hit during this pandemic. With much of the world in lockdown, passenger airline traffic is down 95 percent, hotels are nearly empty, and tour operators are unemployed. The industry will rebound eventually, as the urge to travel is hardwired into many humans, but it's unlikely to look exactly the same as it did before 2020.
Treehugger predicts that, among other things, road trips and rural destinations will be the hot-selling ticket items in the coming months as people start to regain their thirst for travel.

---
Portugal's Airbnb owners resist push to low-rent housing

Meanwhile, in Lisbon and Porto the government are offering to take short term rentals back into the long term marketplace by offering 2 to 5 year leases in order to free up housing stock and potentially help holiday rental owners through these difficult times.

LISBON (Reuters) – As reservation calendars at Portugal's 90,000 holiday homes were wiped clean amid the coronavirus outbreak, councils in its biggest cities swooped in with offers to rent up to 2,000 properties to sublet as low-cost housing.
---
Edinburgh council to buy or rent empty Airbnb properties off desperate landlords

This is also happening in Scotland…

Hundreds of short-let properties normally crammed with tourists at this time of year are standing empty, but councillors have launched a scheme to return them to their 'proper use as a home'.
Edinburgh landlords and holiday let owners left with empty homes due to coronavirus are being encouraged to lease or sell them to the council.
---
France to Build Online Platform to Rival Airbnb, Booking.com

The French government has announced that they plan to build a listings portal for the country. This could make a lot of sense as they could then control properties that are listing in the grey area of legality, especially in Paris, along with policing things like minimum stays, licensing and taxes.
They may have underestimated the costs and complexity of such a task though.

The French government will join forces with the tourism industry to build an Internet site aimed winning back customers from U.S. online travel giants such as Airbnb Inc. and Booking Holdings Inc.
The initiative is part of government-led stimulus package to revive tourism in one of the world's top destinations as hotels, restaurants, theme parks as well as travel sites and tour operators are among the hardest hits by lockdowns and restrictions to fight the global coronavirus pandemic.
---