Doinn is excited to introduce our new partnership with Hostify! The all-in-one PMS and Channel Manager solution to automate and centralize all facets of your rental business. An advanced property management system to help owners and vacation rental professionals to manage hundreds of listings at once.
Don't you already know it? Here we tell you a little more about it.
What can Hostify do for your business?
Imagine having a personal assistant to take care of all the repetitive and tedious tasks in managing your properties! That's precisely what the Hostify system does for you. This technology uses intelligent tools to help you simplify the management of your accommodations, from communications, and channel management, to booking and payment management.
Streamline your vacation rental business and gather all your interactions in a single dashboard. Hostify instantly synchronizes data and accounts. Hostify's goal is to achieve more efficient and cost-effective management of your vacation rentals. By automating your business you will be able to focus on what's really important, improve your profitability and provide an exceptional experience for your guests.
Benefits of using Hostify property Management system
Forget about overbookings!
Simplify your bookings wherever they come from (AirBnB, Booking, Expedia, Vrbo and others). Hostify offers you the best tool to manage all your reservations in a single portal. Do not waste your time checking every inbox every day, follow and update all your bookings in real-time and get instant availability of your accommodations.
⬥ Manage reservations on the go
Do you have a busy schedule? Are you always on the go? Hostify got you covered! Our Mobile App gives you the flexibility to manage properties and communicate with clients from anywhere, anytime.
Keep a smooth communication with your guests no matter which channels they come from. Get real-time updates and improve your response time. Receive a notification every time you get a new booking, an inquiry or last-minute cancellation so you won't miss anything!
Do not waste time with repetitive tasks and automate your processes, from payment automation and pricing, customer communications, to cleaning tasks or check-in instructions. Set your own automation rules and say goodbye to repetitive tasks: get notified when payments are successful or when deposits arrive,
Centralize your communications
Communicate with your clients from a single unified inbox and do not spend more time checking a dozen of Airbnb inboxes and platforms every day. No more miscommunications or crossed wires, see all your conversations at a glance and stay in control of your bookings at all times.
⬥ Streamline registration process
Process your guest information online and automate check-ins for a smoother and more enjoyable guest experience. Confirm their contact details and ensure your clients e-sign your customized contracts before their arrival.
⬥ Get direct bookings
With Hostify you get your own free booking website. A simple and customizable website to receive direct bookings without paying the channel's commission. You will be able to transform your visitors into paying guests by using our built-in booking engine.
Make website customization a breeze with our user-friendly interface. Our platform is designed to simplify the website creation process, so you can focus on growing your business.
⬥ Owner portal
Hostify allows you to track bookings and monitor the performance of your properties.
With the Owners portal, property managers will be able to show their owners the effectiveness of their management by offering them their own personal dashboard. It's ideal for maintaining the transparency every property manager strives for.
By implementing custom access roles you can create unique access levels for each property owner based on their individual preferences.
At Hostify they're constantly seeking out new innovative partnerships as they work to stay ahead of the trends in our ever-evolving industry.
These partners not only contribute and support our efforts as a company but provide significant value to this industry as a whole.
Discover all the integrations Hostify offers, such as OTA's and industry-leading platforms. From channel managers like Rental United or Siteminder, different online payment providers, Dynamic Pricing & Revenue management tools such as Pricelabs, Beyond Pricing and Turbosuite, for security Hostify integrates with Superhog, Insuraguest, remote access systems and much more apps and operational tools: Asana, Whatsapp, WordPress, Breezeway, Duve, etc.
How does the integration with Doinn work?
It's time to take your rental business to the next level! This integration makes Hostify the ultimate " all-in-one " solution, specially designed to help property managers work smart and efficiently, automating the process from the reservation to the check-out.
Hostify works for any type of accommodation, from apartments, small hotels, villas, cottages or any other vacation rentals.
The Doinn integration with Hostify allows property managers to seamlessly manage their housekeeping operations by linking the Hostify platform.
This means that property managers can easily buy cleaning and linen services in hundreds of cities across 6 countries, create and assign cleaning tasks, track the status of cleanings, and receive notifications when cleanings are complete.
Synchronize Hostify reservations and associate services for each property by following these simple steps.
Benefits of the Doinn Integration with Hostify:
The Doinn integration with Hostify offers a number of benefits for property managers, including:
Streamlined housekeeping operations: Property managers can easily create and assign cleaning tasks, track the status of cleanings, and receive notifications when cleanings are complete.
Increased efficiency: The Doinn integration with Hostify can help property managers save time and money by automating their housekeeping operations.
Improved guest satisfaction: Property managers can provide their guests with a more consistent and high-quality housekeeping experience by using the Doinn integration with Hostify.
Reduced risk of errors: The Doinn integration with Hostify can help property managers reduce the risk of errors in their housekeeping operations.
Outsource professional cleaning and linen services: Property managers can seamlessly book great value-for-money professional cleaning and linen services in hundreds of cities across 6 countries.
Want to learn more about how Hostify can boost your rental business? Book your free demo today and talk to one of their experts and start your 14 days money-back guarantee trial.
Enhancing Cleaning Efficiency and Guest Screening in the Vacation Rental Industry
The vacation rental industry has witnessed tremendous growth over the years, offering unique accommodation experiences for travellers worldwide.
However, managing the cleaning process and ensuring the safety and well-being of rental properties can be a daunting task for property managers.
This is where Doinn, a renowned housekeeping platform, and its new partner Autohost step in to revolutionize the industry. In this blog, we will explore how Doinn and Autohost collaborate to bring added value to the vacation rental industry, with a particular focus on Autohost's intelligent guest screening feature and its positive impact on cleaning efficiency.
Improving Efficiency with Intelligent Guest Screening:
Autohost is thrilled to work hand-in-hand with Doinn to reduce the intensity of cleaning after guests depart while improving overall efficiency.
Through its intelligent guest screening feature, Autohost helps property managers curb cleaning costs in a unique way.
By automating the guest screening and check-in process, Autohost collects essential information about guests and presents a risk profile for property managers to review.
This allows property managers to make informed decisions and accept reservations from guests who are more likely to respect the space and fulfil their financial responsibility for the stay.
A Safer Environment and Responsible Guests:
By vetting guests correctly, Autohost ensures that property managers have access to reliable information and can identify guests who are likely to behave responsibly during their stay.
When guests know that their payment information is on file and that they have been thoroughly screened, they are more inclined to respect the rental space.
This leads to a safer environment and minimizes the risk of issues such as property damage, parties, fraud, chargebacks, and even more serious concerns like sex trafficking.
Autohost's commitment to responsible guest screening contributes to creating a secure and enjoyable experience for both guests and property owners.
Seamless Integration and Automated Processes:
Autohost seamlessly integrates with Property Management Systems (PMS) and becomes the primary point of contact for guests. Upon making a reservation, guests receive a welcome email containing a link to the Autohost Guest Portal.
Here, guests are prompted to enter their information, which Autohost then verifies and cross-references for any inconsistencies or red flags.
If no issues arise, the guest is promptly approved, and Autohost automatically sends check-in instructions. This streamlined process reduces the workload of property managers, allowing them to focus on more complex cases and ensuring a smooth and efficient check-in experience for all guests.
Reduced Workload and Increased Revenue:
Autohost's intelligent guest screening feature not only enhances safety but also delivers tangible benefits for property managers. By automating the screening and check-in process, property managers experience a significant reduction in agent and front desk workload, saving valuable time and resources.
This increased efficiency translates into improved operational productivity and allows property managers to allocate their efforts where they are most needed. Moreover,
Autohost customers have reported an average increase in revenue of 15%, as the platform enables property managers to focus on attracting higher-quality guests who are more likely to respect the property and adhere to the rules.
The partnership between Doinn and Autohost brings forth a powerful combination of housekeeping services and intelligent guest screening that significantly enhances the vacation rental industry.
By leveraging Autohost's robust screening technology, property managers can efficiently identify responsible guests, reduce cleaning intensity, and maintain a safe and secure environment for all stakeholders.
As the industry continues to evolve, Doinn and Autohost's commitment to efficiency, safety, and guest satisfaction sets a new standard for the vacation rental experience.
Too many PMS options? Meet Ynnov a recognized option in the short-term rental market.
And as usual Doinn only partners with the best options in the industry.
This is the case of Ynnov, a 100% Portuguese PMS developed especially for vacation rental.
Keep reading all the details about PMS Ynnov 😉
Developed 100% in Portugal and in Portuguese:
Ynnov is a PMS that has been evolving for 12 years, bringing together some of the best tools.
Since its origin in 2010, Ynnov has maintained a process of continuous improvement that guarantees you, today, maximum efficiency in the management of your properties on all fronts where you can operate.
With a Portuguese team that understands the needs of the local industry.
In the market for 12 years, in constant evolution and growth, the Ynnov platform is today the most complete PMS available for the Portuguese market.
With its wide range of features, the Ynnov software guarantees an efficient and automated management of the entire operation, whether short term accommodation, hostels, or hotels.
By using Ynnov, hosts and property managers can save precious time in daily management, regain quality of life and focus on what is really important for their business.
Decreasing the probabilities of human error will increase customer satisfaction and increase the profitability of your properties.
Ynnov is considered one of the best Portuguese PMS and Channel Manager, as it maximizes productivity, allows a professional level of management and, consequently, maximizes positive results.
Since the creation of Ynnov, in 2010, the team's main concern is the constant improvement of the software, to follow all the important developments in the evolution of the tourist market, as well as the main needs of its customers.
Therefore, today Ynnov guarantees maximum efficiency in the management of all aspects of the accommodation business.
Features:
The Ynnov software includes a powerful Channel Manager, which synchronizes with the main distribution channels, and a Property Management System, which allows customers to centrally manage all aspects of reservations and accommodation.
This also includes:
Communications to the SEF.
Emails and text messages.
Cleaning service
Maintenance
Online check-ins
Finance
INE/SREA reports, guest data, tourist taxes, digital keys, notifications and alerts, various automation mechanisms, staff, owners' portal, and statistics.
With the additional certified invoicing software, YnnovFAT, invoicing is as fast and easy as a single click.
The Ynnov mobile application, available for iOS and Android systems, allows customers to always follow the daily activities of their business, no matter where they are.
Whether it's check-ins and check-outs, cleaning, new bookings or other important aspects, it's all in the app.
Ynnov also allows accommodation owners and managers to easily develop a personalized and attractive website to directly promote their brand/accommodation and attract direct bookings, not tied to distribution channel fees.
The web design is customizable, with a modern design, intuitive use, and full compatibility with mobile devices.
Editing multi-language content is easily done directly in the PMS software.
Having your own direct sales channel allows owners and managers to increase customer loyalty as well as direct bookings.
For those who already have a website, Ynnov also has a solution, a booking platform that can be connected to any website or used on social networks.
Cleaning and maintenance features: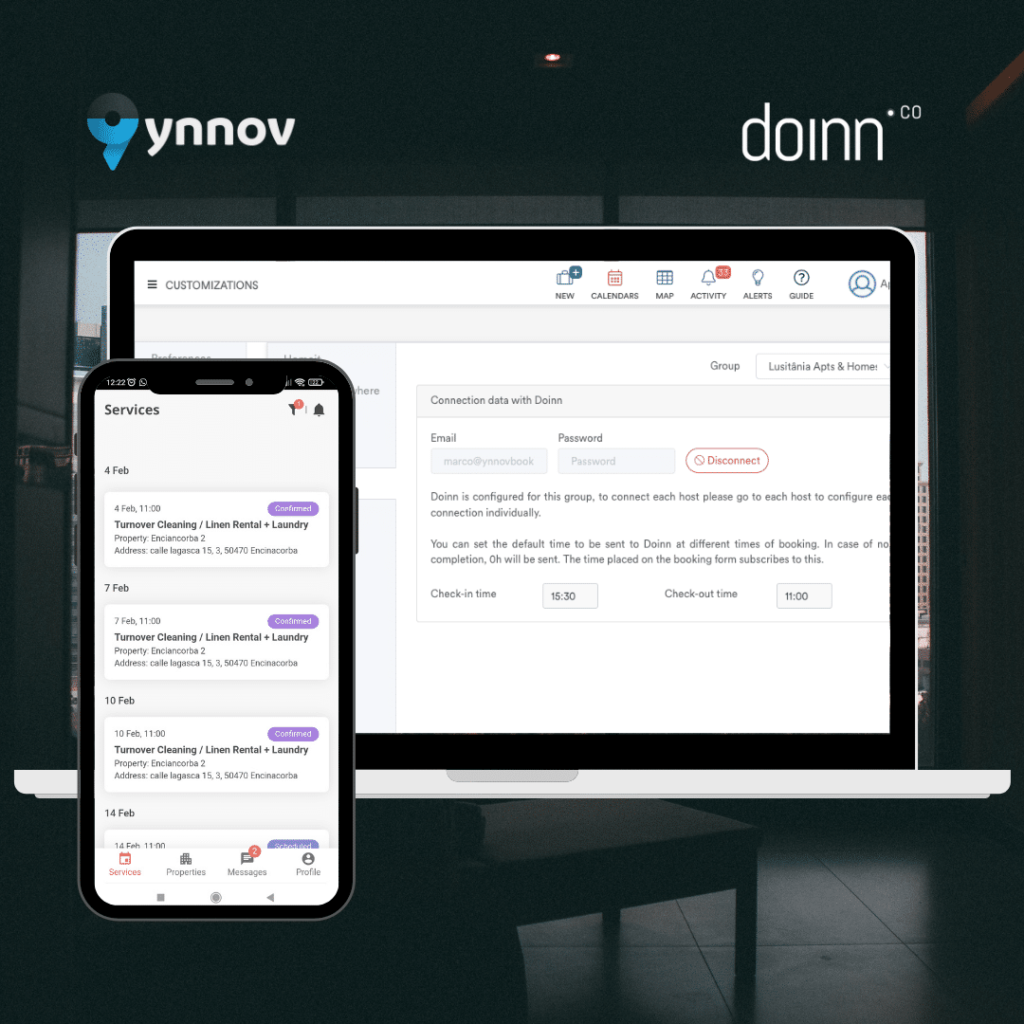 Thanks to the Doinn integration, you will be able to manage your services through your Ynnov account with just a few clicks:
Access your Ynnov account and look in the user menu, in the upper right corner, and select "Personalizations".
Once in the "Customizations" menu, select "Integrations":
On the left side bar and then select "Doinn". Enter the email and password that were used to create a Doinn account and press "Connect".
That's it!
You can check out more about the integration in this walkthrough.
What can you do with this integration?
Turn your bookings into cleanings
Get laundry services and linen rentals
Request any specific cleaning services offered by Doinn at your property.
Manage your business in the palm of your hand thanks to two software specialized in local accommodation.
And spend more time managing communication with your guests, booking prices, and more!
A Channel Manager is definitely an extensive subject and of course here at Doinn, we care about giving you all the details on this type of solution.

Moreover, providing clean and tidy accommodation to your guests is a big part of your operations.

That is why we want to offer you various solutions and integrations.
Today we are announcing our integration with a new property management solution: let's welcome Octorate!

A complete suite with different features that will help you run your vacation rental company.
See all the details about Octorate here below 😉
Octorate – the perfect solution for property management
Thanks to the Octorate Channel Manager you will boost your visibility online and hence increase your reservations.
Octorate is Booking.com, Airbnb, and Expedia's preferred partner.
As well as being integrated with +150 OTAs around the world.
Allowing you to potentially open your property to sell.
A channel manager like Octorate will definitely simplify your business and your daily activities.
You will have the chance to start getting many reservations on various portals.
But you can manage all of them from one platform (rates and availability update, restrictions, etc).
With Octorate, you can also start getting reservations without any commission costs thanks to the Booking Engine.
It is a booking platform compatible with any website and fully customizable.
However, in case you do not have any web page, you can get the OctoSite.
A real website that can be set up in a few minutes, already linked to the Booking Engine.
Housekeeping with Octorate & Doinn
Octorate is not only a great tool for property management because of all the channels you can work with.
But also an in-cloud platform compatible with any device and you do not have to install any software to use it!
By combining both powerful solutions you will have a new way of running your business with Octorate & Doinn.
Add the iCals of your properties to your Doinn account, you will be free of the hassle of cleanings.
Automate the turnovers with every new booking coming from the different channels.
This combined with the Octorate app will be a completely new way of running your business.
If you use the Octorate App on your phone, you will be able to use the following features:
Model Pics – App
If you have a standardized way of arranging the furniture and amenities in the rooms, Octorate got your back!
You can save a gallery of pictures in the details of each room/apartment.
The cleaner will only have to download the Octorate App to see the pictures and keep them as a reference when taking care of the accommodation.
This functionality is particularly useful for new staff members!
Maintenance notes – App
Let's suppose the cleaner spots a sink leaking in the bathroom of the accommodation.
They can easily leave a maintenance comment via the App, which will be visible to anyone in Octorate in relation to that specific room.
Why use Doinn & Octorate together
So let's say that the cleaner is using the Octorate app to get your apartment to "look like" you want it.
But, are they following any specific technique not to miss a spot?
Doinn has certified protocols and cleaners follow a very specific checklist to avoid losing any details when performing the service.
And remember the maintenance comment on the Octorate app?
You can follow up on that by creating a maintenance service with one of Doinn's vendor to solve the problem!
As well as a bunch of other types of services:
Deep cleanings

(To get the property ready after a long time been unused)
Common areas cleanings, and more!
On top of that get a Doinn host app in order to follow up and know when a service starts or finishes!
Great, right?
As you can see this partnership is thought of as making your life easier!
The partnership between Octorate and DOINN can really help you to improve and simplify the management of your property at the same time.
Thanks for reading and evaluating this solution for your business.
When using such a powerful property management solution as Octorate:
Your visibility online will be boosted
You will get much more reservations
Your workload will increase
However, we are offering you the right tools to keep all this under control!
DOINN and Octorate know it very well and aim at making operations for your property a smooth process.
Doinn is here for good, in more than 11 countries and 600 cities!
Do not worry about searching for trusted teams anymore, count us in.
See you in the next article! 👋👋
PMS integration is always good news at Doinn!
Today we are welcoming our recent integrated partner: TOKEET
Tokeet it's a great addition to our portfolio of integrations.
Tokeet offers a complete, fully integrated, and best-in-class suite of products for all aspects of a vacation rental business.
Their platform contains all the tools you need to grow from 1 to 1K rentals.
Providing a full-stack platform. Tokeet is a one-stop shop for vacation rental management software solutions.
This was more than an excellent reason to make an integration with them.
How does Tokeet works?
We know there are a lot of options to choose from on channel managers and tons of PMS solutions.
So we figured it was easier to share this video with you guys to hear the reasons directly from the horse's mouth 😉
Tokeet is a Property Management System (PMS) launched in 2016 with over 50,000 rentals.
Aimed at hosts and managers from 1 to 1,000 properties!
Tokeet's solutions make it easy for vacation rental managers to coordinate reservations across multiple channels, automate tasks, and perfect pricing.
Why use the Tokeet – Doinn integration?
Remember that article where we talked about preparing after post-pandemic traveling?
One of the keys to this new era is digitalization.
And having a strong PMS allied is a very important part of this process.
By using a powerful tool for your property management and hooking it up with our solution you will be one step ahead!
Doinn is not only a platform, it is an operations center!
Ready to help you get your properties ready when you need them!
How to integrate with Doinn?
Check out this video to see how tokeet PMS and Doinn integration works!
Activate the integration in less than 3 minutes!
You can also read the complete help page here.
Remember by integrating Doinn you will also have a mobile app to get real-time information on your property operations!
You don't want to miss our upcoming collaborations! Stay tuned for more of our partnership news on our social media and blog content!!
See you next time 👋🏻👋🏻
Beautiful, colorful, vibrant Lisbon.. Portugal's Capital City.
With a population of just over 500,000 and a whopping 3 million visitors per year, it's no wonder that you want to drop by!
Lisbon is a top tourist hotspot and a wonderful, as well as affordable holiday location.
Overlooking nostalgic coastal views and monuments steeped in history.
Lisbon is the perfect place to explore, unwind and relax.
Stick with us here at Stasher, the best option for luggage storage in Lisbon, to learn more about what in the world to do in a city where there is so much available at your fingertips!
1. Learn to make your own Pastel de Nata
You know how the saying goes, the quickest way to anyone's heart, is through their stomach!
We figured the best way to start your Lisbon experience is through taste, and what better food is there to encompass all that Lisbon has to offer if not its very own Pastel de Nata (custard tart).
Let's circle back to the 19th century for a moment, to the West of Lisbon at Jerónimos Monastery in Belém, where the history of the Pastel de Nata began.
Believe it or not some monks found themselves with too many leftover egg yolks and decided to get creative!
Today, we thank them for the beloved national treasure that is this pastry.

Immerse yourself in the wonders of Portuguese cuisine at the Compadre School of Cooking located at Number 14, Rua Heliodoro Salgado.
Here you can learn to make your very own authentic Pastel de Nata, so that the next time you crave a piece of Portugal, you'll only have to travel to your kitchen.
2. Dinner and Fado
Since we are on the topic of great Portuguese food, we recommend that you head over to somewhere like Clube de Fado to delight in some more of the country's delicacies.
But be warned, the taste bud tickler, for once, is not the star of the show. No no, that spot is reserved for Fado.
This emotive genre of music originated in the 1820s in Lisbon, but it is believed to have much earlier and deeper origins.
Fado is often linked to cafes, restaurants and is known for its eerie, melancholic melodies not to mention its beautifully profound nature, musically and lyrically.
3. Feira da Ladra (The 'Thieves' Flea Market)
Feira da Ladra, roughly translated to ''The Market of Thieves'', is one of Lisbon's oldest markets.
Dating back to the 12th century, this market, once displaying random, unwanted second-hand items for sale (hence the name), has grown and evolved into what it is today.
A place where you can find clothes, books, handmade/carved goodies, countless antiques carrying the history of Portugal in their shine, and definitely some souvenirs that you can take home to your loved ones.
So put on your best adventurer's hat, make your way down to Campo de Santa Clara and swerve through the lively Feira da Ladra, haggling to your heart's content.
Learn more about the history of the famous Lisbon Flea Market here.
4. O Museu do Azulejo or The National Tile Museum
If you're looking to learn more about Portuguese culture and you also happen to be a fan of art, look no further than the Museu do Azulejo, also known as The National Tile Museum.
The Museu Nacional do Azulejo, founded by Queen D. Leonor in 1509, is located in R. Me. Deus 4, 1900-312, Lisbon, and it is dedicated to the azulejo, the traditional tilework of Portugal.
The word Azulejo means ''polished stone'', but I don't think that that description quite represents the meaning of the tile to the Portuguese people.
Tiles trace as far back as the 13th century and were initially used to protect the walls of wetter areas such as bathrooms and kitchens from dampness/mould, but they became a common expression of Portuguese culture and art in the 15th century.
The museum features, but is not limited to, a wide range of decorative ceramic tiles, in various colours and made of many different materials, beautifully depicting the history of the Portuguese Empire from as far back as the 15th century, right up until the present day.
What is not to love, right?
5. Make your own tile
So you've visited one of Lisbon's most historically rich locations, learned as much as you can about Portugal, got lost in all it's astonishing swirls and patterns and now you're wondering, 'what do I do next?'.
Well it only stands to reason that, since you've spent so much time admiring the azulejo, you should make one yourself!
Yes, you can totally do that, and at the Museum no less! So remember, when you get through the exhibition and explore till you've had your fill, sign up to the workshop the Museum offers, and jump into the hands-on experience of creating the traditional ceramic tile.
Lucky for you, all of that inspiration should still be whizzing around in your brain, so have fun and get creative. No pressure!
6. Igreja de São Roque or 'Church of Saint Roch'
The Igreja de São Roque. This church is a marvel that you will undoubtedly want to see.
The first Jesuit church in Portugal and one of the only buildings to survive the devastating earthquake of 1755 nearly untouched, it is a wonder to explore.
With breathtaking sacred art, a dazzling marble and gold interior, and featuring our beloved traditional tile work, the astoundingly clever mannerist and baroque architecture, (work of Filippo Terzi, royal architect of Filipe II of Portugal), is sure to draw you into its grasp.
The São Roque Museum, which you may also be interested in surveying, is stationed right next to the church.
Free guided tours are offered at 3pm Thursday to Sunday if you want to learn more about the church's past, but you are also welcome to have a browse at your own pace.
Although we definitely recommend making the most of the tours, given that the story of this building is astonishing, (and if we tried to explain it all to you in this blog alone, we would be here for the entirety of your holiday).
7. Tram 28
Tram 28 follows the most famous journey in Portugal.
This particular tram has been around since 1914, when horse-drawn carriages still carried Lisbon's locals through its winding streets and over the seven hills that the city was built on.
The tram travels through the centre of the city and, similarly to a sightseeing bus, it passes through older areas of the city, allowing tourists (and locals) to appreciate its original architecture, newly built areas for the modern heads, as well as many of Lisbon's attractions.
Learn more about the Tram 28 route as well as how to purchase tickets here.
We recommend that you get a day pass for the tram, it costs between €6-€7 and lasts for 24 hours.
Tram 28 has over 30 stops on its path, so it may take you a while to get to the end of the line.
But if you have some time while in Lisbon, be sure to jump on this journey to the past, or at least as close to the past as you can get.
8. Tuk Tuk Tours
Tuk Tuk Tours, like Tram 28, can take you on a venture all through the City of Lisbon.
On the winding and narrow roads, the smooth concrete and the cobblestone, as well as passing through and stopping, at main attractions and landmarks.
This time, however, you get a little more wiggle room to decide where you go!
Think of your Tuk Tuk guide as a Genie, ask and you will get!
Only you are not limited to 3 wishes, Tuk Tuk guides are delightful and knowledgeable and they definitely will not trick you into wishing them free.
Prices may vary where these tours are concerned. For example, a tour taking 30 minutes to 1 hour, can cost anywhere between €20-€30.
Whereas a longer tour, between 2 and 3 hours, can cost up to €100.
You'll usually find Tuk Tuks stationed throughout the city of Lisbon, particularly at touristy locations and landmarks.
You may wish to ask different drivers what they charge for a tour and decide based on what is most affordable for you.
9. Dolphin Watching
If you love nature and take pleasure in seeing animals thrive in their natural habitat, then this is the activity for you!
You will depart from the Lisbon coast on a speedboat, travel over the Tagus River, pass under the famous '25 de Abril' suspension bridge and start your venture into the ocean.
You will also be able to see many of Lisbon's amazing monuments along the way.
The goal is, of course, catch sight of some dolphins up close, but with the help of a marine biologist that will be on board, if you are lucky enough, you may encounter various other species of marine wildlife on your travels.
These include but are not limited to, jellyfish, sharks, turtles and much more! Note that the weather can sometimes affect this activity.
Head over to Airbnb Experiences to book this wondrous, you guessed it, experience!
10. Beach day from Lisbon
The last activity, one of the most popular in Portugal, and certainly the hardest to beat, is a good old beach day.
Because if there's one thing that holiday goers, backpackers, locals and travellers alike can all agree on.
It's that lazily rolling around in golden sand or somersaulting into the misty deep blue, are hands down some of the absolute most satisfying ways to spend your holiday.
So, search for luggage storage in Lisbon and then hop on a bus, a car or a broomstick.. (we don't judge) and make your way to one of these beautiful beaches to appreciate what the world has to offer.
Oh and since we love you so much, check out the list of beaches below, accessible by public transport from central Lisbon along with some other beaches that are a short drive away.
Don't say we don't do anything for you! 😉
Beaches accessible by transport:
Praia de Carcavelos
Praia da Conceição
Costa da Caparica
Praia de Santo Amaro de Oeiras
Beaches accessible by car:
The Serra da Arrabida
Praia do Guincho
Lagoa de Albufeira
Fonte da Telha
We give a special thanks to Stasher team, for giving top notch travel tips so you can savour every moment of your adventures.
We hope that this blog has done the trick!
Now that you have all of the information needed to make your trip to Lisbon a success, use it wisely. Enjoy!
About doinn:

Doinn provides top cleaning, laundry services and linen rental all through our software platform.
P.D. You can also check this other article about things to do in Lisbon on winter.