Are you still doubting if attending the industry conferences?
The short-term rental industry is constantly evolving, and it is important for all stakeholders to stay up-to-date on the latest trends, regulations, and technologies. One of the best ways to do this is to attend industry conferences.
Conferences offer a number of benefits for property managers, vendors, associations, fresh entrepreneurs, and local authorities:
Property Managers
Learn about the latest trends and best practices: Conferences offer a variety of educational sessions and workshops on topics such as revenue management, guest experience, and sustainability. Property managers can learn from industry experts and take these insights back to their businesses to improve their operations.
Network with other professionals: Conferences provide an opportunity to network with other property managers, vendors, and industry leaders. This can lead to new partnerships, collaborations, and business opportunities.
Discover new products and services: Conferences are a great place to learn about new products and services that can help property managers run their businesses more efficiently and profitably.
Vendors
Generate leads and sales: Conferences offer a unique opportunity to connect with potential customers and generate leads and sales. Vendors can showcase their products and services to a large audience of decision-makers in the short-term rental industry. For Doinn, the 20% of our sales come from the conferences.
Learn about customer needs: Conferences are a great way to learn about the needs and challenges of property managers. This information can be used to develop new products and services or improve existing ones.
Build relationships with industry partners: Conferences provide an opportunity to network with other vendors and industry leaders. This can lead to new partnerships, collaborations, and business opportunities.
Associations
Educate members: Conferences offer a valuable opportunity to educate members on the latest trends, regulations, and advocacy initiatives.
Build relationships with members: Conferences provide a forum for members to connect with each other and build relationships. This can lead to increased membership engagement and support for association programs.
Generate revenue: Conferences can be a significant source of revenue for associations. This revenue can be used to fund advocacy efforts, education programs, and other member benefits.
Fresh Entrepreneurs
Learn from the best: Conferences offer the opportunity to learn from experienced entrepreneurs and industry leaders. This can be invaluable for fresh entrepreneurs who are just starting out in the short-term rental industry.
Network with potential partners and mentors: Conferences provide a chance to network with other entrepreneurs, vendors, and industry leaders. This can lead to new partnerships, mentorships, and business opportunities.
Get exposure for their businesses: Conferences offer a platform for fresh entrepreneurs to showcase their businesses to a large audience of potential customers and investors.
Local Authorities
Learn about the latest trends and regulations: Conferences offer a valuable opportunity for local authorities to learn about the latest trends and regulations in the short-term rental industry, locally, nationally and internationally. This information can be used to develop and implement effective policies and regulations.
Network with other stakeholders: Conferences provide a forum for local authorities to network with other stakeholders, including property managers, vendors, and associations. This can lead to increased collaboration and communication.
Promote their destination: Conferences offer a platform for local authorities to promote their destination to a large audience of potential visitors.
Overall, attending conferences is a valuable investment for all stakeholders in the short-term rental industry. Conferences offer the opportunity to learn, network, and grow businesses.
In addition to the benefits listed above, conferences can also help to:
Increase awareness of the short-term rental industry: Conferences help to raise awareness of the short-term rental industry and its importance to the local economy.
Promote responsible short-term rentals: Conferences can be used to promote responsible short-term rentals and educate property managers and guests on best practices.
Build a stronger community: Conferences bring together stakeholders from all sectors of the short-term rental industry to foster collaboration and community building.
If you are involved in the short-term rental industry, I encourage you to consider attending the next industry conference. It is a great opportunity to learn, network, and grow your business.
Save the dates!
Here is a list of the main short-term rental conferences in the USA, Europe, and Australia in 2024, with the date of the event:
USA
STR Wealth Conference (January 9-10, 2024) – Miami, FL
Vrbo Summit (April 10-12, 2024) – New Orleans, LA
Vacation Rental Management Association (VRMA) Annual Conference (June 18-21, 2024) – Las Vegas, NV
Short Term Rental Association (STRA) Global Conference (September 10-12, 2024) – San Diego, CA
Europe
Exit Door Spain and Scale Rentals (Feb 19-21, 2024) -Marbella, Spain
Vitur summit (April 17-18, 2024) -Málaga, Spain
ShortStay Conference (April 24, 2024) – London, England
Scale Show (May 14-15, 2024) -Barcelona, Spain
European Holiday Home Association (EHHA) Annual Conference (June 5-7, 2024) – Amsterdam, Netherlands
Short Term Rental Europe Conference (September 18-20, 2024) – London, UK
Scale Rentals (Oct 29-30, 2024) -Florence, Italy
Australia
Short Stay Accommodation Australia (SSAA) National Conference (May 30-June 1, 2024) – Brisbane, QLD
Stayz Partner Conference (June 6-7, 2024) – Melbourne, VIC
Australian Short Term Rental Association (ASTRA) Annual Conference (September 26-27, 2024) – Sydney, NSW
See you there
Modern Slavery Act and the Hospitality Industry
The Modern Slavery Act (MSA) is a law that was passed in Australia and Singapore to combat modern slavery and protect victims. The MSA requires businesses to report on the steps they are taking to identify and mitigate the risk of modern slavery in their operations and supply chains.
The hospitality industry is particularly vulnerable to modern slavery, as it is a labor-intensive industry with a high turnover of staff. Hospitality workers are often vulnerable to exploitation, as they may be undocumented workers, migrant workers, or workers who are paid in cash.
Why is the Modern Slavery Act important for the European Union?
The European Union is a major tourist destination, and it is important to ensure that the hospitality industry in the EU is free from modern slavery. A Modern Slavery Act would help to achieve this by requiring businesses in the EU to report on the steps they are taking to combat modern slavery in their operations and supply chains.
A Modern Slavery Act would also help to raise awareness of modern slavery in the hospitality industry and encourage businesses to take action to address the problem. It would also send a strong message to the rest of the world that the EU is committed to tackling modern slavery.
How Doinn is taking cleaners out of the black market
Doinn is a platform that connects hospitality operators with professional cleaning companies that offer decent work and fair pay to their cleaners.
Doinn's mission is to take cleaners out of the black market and to support the sustainability of the hospitality industry, especially the short-term rental industry, which is facing a more challenging labor shortage.
Doinn's app features help create a more diverse and inclusive work environment for cleaning operators, but the cleaning company or the hospitality operator also needs to invest in training and ensure good living conditions for its workers.
Conclusion
The Modern Slavery Act is an essential tool for combating modern slavery in the hospitality industry. Doinn is also playing a role in taking cleaners out of the black market and providing them with decent work and fair pay.
By working together, we can help to create a sustainable hospitality industry that is free from modern slavery and that respects the rights of all workers.
Your Ultimate Housekeeping Solution for the Summer
As the temperature rises and vacation plans take shape, the summer season brings a surge of excitement for both hosts and travelers. However, for short-term rental owners and property managers, this high season also brings operational stresses that can quickly dampen the joy.
That's where Doinn, the leading housekeeping platform, steps in to alleviate the burden and help you make the most of the summer season.
The Summer Rush: A Double-Edged Sword: The summer months are undoubtedly the high season for short-term rentals. Travelers flock to popular destinations, seeking the perfect getaway. However, the increased demand means a higher turnover rate, with back-to-back check-ins and check-outs. Handling these rapid turnovers manually can be overwhelming, leading to potential mistakes, delays, and dissatisfied guests. Doinn's innovative solution streamlines the entire housekeeping process, ensuring a smooth and efficient operation during this busy time.
Operational Stresses Made Easy: Managing multiple properties and coordinating housekeeping tasks can be a logistical nightmare, particularly during peak seasons. With Doinn's intuitive software-as-a-service (SaaS) platform, you gain access to a centralized dashboard that simplifies every aspect of housekeeping management. From scheduling cleanings to tracking progress and communicating with cleaning providers, Doinn streamlines operations, saving you valuable time and reducing stress.
Trustworthy Cleaning Providers: Maintaining high standards of cleanliness is crucial for short-term rentals, as positive guest experiences rely heavily on a pristine environment. Doinn understands the importance of quality and reliability when it comes to cleaning services. They have a vast network of trusted cleaning providers who are thoroughly vetted and trained to deliver exceptional results. By partnering with Doinn, you gain access to this pool of professionals, ensuring that your properties receive top-notch cleaning services consistently.
Seamless Integration and Customization: Doinn seamlessly integrates with major property management systems, allowing you to sync calendars, automate cleaning schedules, and receive instant notifications. Whether you manage a handful of properties or an extensive portfolio, Doinn's flexible platform adapts to your specific needs. You can customize cleaning instructions, establish checklists, and even cater to unique guest requests, ensuring that each property is tailored to meet your exact requirements.
Peace of Mind for Hosts and Guests: One of the most significant advantages of using Doinn is the peace of mind it provides to both hosts and guests. Hosts can rest easy knowing that their properties are in capable hands, ensuring a consistent and excellent experience for guests. On the other hand, guests will appreciate the cleanliness and attention to detail provided by Doinn's professional cleaning providers, enhancing their overall satisfaction and increasing the likelihood of positive reviews and return visits.
As the summer season approaches, the demand for short-term rentals skyrockets, presenting both opportunities and challenges for hosts and property managers. Doinn's comprehensive housekeeping solution eases the operational stresses associated with this high season, allowing you to focus on delivering exceptional guest experiences. By leveraging Doinn's innovative SaaS platform and trusted cleaning providers, you can welcome the summer with confidence, knowing that your properties are in the best hands possible. Embrace the summer season stress-free and make the most of this bustling time with Doinn by your side.
Are you getting ready for the holidays? Short-Term Rentals may be a great choice
Short-term rentals are not a new way to travel. A short-term rental is a property that you can book for a period of time, usually under 30 days.
The owner of the property will provide you with everything you need during your stay: towels, linens and cleaning supplies. You can also expect WiFi access and cable TV in most cases.
My grandmother had a short-term rental property in the 70s and the 80-s,
but with so many distribution platforms and so many people traveling these days–whether it's for business or pleasure–it makes sense that there would be an increasing demand for this type of accommodation option.
And why wouldn't there be? It offers travelers more flexibility than traditional hotels while still providing them with all the comforts they need on their trip (and sometimes even more).
The Benefits of Short-Term Rentals for Families
Short-term rentals are a great choice for families because they offer the flexibility to stay in one place for longer than a hotel.
This means you can cook meals at home, which can save you money on dining out and allow your family to eat healthier meals. You also get access to amenities like laundry facilities and pools that are not always available in hotels.
Plus, if you're traveling with kids (or even pets), short-term rentals provide privacy so everyone can relax without feeling like they're living out of their suitcase all day long.
If you're looking for more space than what is offered by hotels, then short-term rentals may be right up your alley!
Most properties come with full kitchens that allow guests to prepare meals instead of eating out constantly–a big plus when traveling with children who might be picky eaters!
Finding the Right Short-Term Rental for Your Family
When you're looking for a short-term rental, it's important to do your research. First, consider the different types of properties available.
Do you want something that is more like an apartment or hotel? Or would you prefer something more like a house?
Once you've decided on what type of property best suits your needs, compare prices and amenities between different properties–this should help narrow down which option is right for your family.
Finally, read reviews from previous guests who have stayed at each property so that you can get an idea of how comfortable it might be during your stay!
Booking Your Short-Term Rental
When you're ready to book your short-term rental, there are a few things you'll want to consider.
First, choose a booking platform that has a wide selection of properties available in your destination. The more options you have, the better chance you have at finding something that fits your needs and budget.

Next, understand how each site's cancellation policy works; some may charge fees while others do not. Also, pay attention to any additional fees associated with booking through third parties such as Airbnb (for example cleaning fees).
Finally, research locations before making reservations so that when it comes time for checkout day–and especially if there was anything unexpected about your stay–you can give them feedback on how they could improve their service or facilities next time around!
If you want to save money, you can search for short-term rentals through Google Maps and contact them directly. Just request the short-term rental license and insurance to get protected from scams and ask them if they use any kind of professional cleaning company like the ones onboarded on Doinn for you to feel safe in terms of cleanliness.
You should also check the reviews on Google.
Preparing for Your Trip
To get the most out of your trip, it's important to make sure you are prepared.
Check-in with the rental company before you arrive at your destination. They may have any last-minute instructions or recommendations for where to go and what to do while there.
Gather supplies that will make your stay more comfortable, such as linens and cookware if they're not included in rentals already.
Pack appropriately for weather conditions–you don't want to be caught unprepared in extreme heat or cold!
Arriving at Your Short-Term Rental
When you arrive at your short-term rental, there are a few things to keep in mind. First and foremost, check in with the rental company. They'll want to know that everything went smoothly with your trip and they can help answer any questions or concerns you might have about the property or surrounding area.
Next up: getting settled in! This means unpacking all of your belongings and making sure they're safe from damage or theft while you're away on vacation (if possible). You may also want to take advantage of some basic cleaning supplies provided by the host–they'll help keep things tidy throughout your stay so when it comes time for checkout, all that's left is packing up again!
Finally, it's important not only for safety reasons but also because some hosts have house rules about noise levels after certain hours (or even pets), so make sure everyone knows what those are before heading out for dinner tonight!
Exploring Your Short-Term Rental Destination
When traveling on a short-term rental, families can enjoy all of the same activities they would at home. The difference is that they will have more space and privacy than they would in a hotel room.
For example, if you're staying at a beach house in Florida, you might want to take advantage of all the local attractions like theme parks and amusement parks within driving distance from your rental property.
You might also want to explore nearby shopping centers or restaurants where there are plenty of things for kids (and adults) alike!
Making the Most of Your Short-Term Rental
When you're traveling on a short-term rental, there are plenty of opportunities to make the most of your stay. From taking advantage of the amenities to staying safe and secure, here are some tips for making each trip more enjoyable:
Take advantage of all the amenities that come with your rental home. Whether it's an outdoor pool or a hot tub, these features can add extra value to your vacation experience.
Stay safe and secure by locking up valuables when you leave the house–and don't forget about keeping important documents close by at all times!
Enjoy space that's just yours during this time away from home; this is especially helpful if you have kids who need their own rooms so they can sleep peacefully without being disturbed by siblings or parents who share a room with them
Leaving Your Short-Term Rental
When you're ready to check out, there are a few things you'll need to do. First, contact the rental company and let them know your plans.
They may have specific instructions for how long before departure you should call or email them so they can make arrangements for someone else who needs their unit.
Secondly, clean up after yourself–don't leave any messes behind! If there's anything broken or damaged (which isn't uncommon), let the rental company know so they can repair it before the next guest arrives.
Finally, return all keys in person at check-in time or via mail if necessary; don't just toss them in an envelope with other mail since this could cause problems if someone else finds them first!
The Benefits of Short-Term Rentals for Families
Short-term rentals are a great option for families, who can save money and time by not having to pack up their belongings every time they move. Families also appreciate the flexibility of being able to stay in one place for longer periods of time.
If you're traveling with children, this can be especially helpful because it gives them more stability and consistency as they adjust to their new surroundings.

In addition to cost savings and flexibility, short-term rentals offer amenities that hotels don't always provide–such as full kitchens or laundry facilities–that make them ideal for families traveling together on vacation or business trips alike!
The Seville Fair, also known as Feria de Abril (April Fair), is one of the most famous festivals in Spain. Held annually in the Andalusian city of Seville, the fair attracts visitors from all over the world who come to experience the vibrant culture, delicious food, and lively atmosphere.
The origins of the Seville Fair can be traced back to 1846 when a local councillor named José María Ybarra organised a livestock fair on the outskirts of the city. Over time, the fair grew in popularity and evolved into the colourful event it is today. It is now held each year during the second week of April and lasts for six days.
The fair takes place in a huge temporary village known as the Real de la Feria. This village is made up of over a thousand casetas (tents), each of which is decorated in a unique style and usually belongs to prominent families of Seville, groups of friends, clubs, trade associations and political parties. These casetas are the heart of the fair and are where people gather to eat, drink, dance, and socialize.
A family-friendly event
During the day, the fair is a family-friendly event with lots of activities for children such as pony rides, face painting, and traditional games. As the sun sets, the atmosphere becomes more lively, and the real party begins.
Flamenco music fills the air, and people of all ages take to the dance floor to show off their moves. The casetas serve a variety of traditional dishes such as paella, tortilla, and fried fish, as well as local wines and spirits.
One of the most famous events of the Seville Fair is the carriage parade, or Cabalgata, which takes place on the opening night. The parade features beautifully decorated carriages, horsemen, and women dressed in traditional flamenco dresses, and is a highlight of the festival. The streets of Seville are also decorated with thousands of lights, creating a magical atmosphere.
The Seville Fair is not just a festival, it is a celebration of the culture and traditions of Andalusia. It is a time when people come together to enjoy good food, music, and dance, and to celebrate the things that make their region unique. Whether you are a visitor to Seville or a local, the Seville Fair is an experience that you will never forget.
Where to stay during the Seville fair
This week-long festival is held in Seville, Sun, Apr 23, 2023 – Sat, Apr 29, 2023, attracts thousands of visitors from all over the world, especially this post-pandemic year. If you're planning to attend the Seville Fair, staying in a short-term rental is a great option for a variety of reasons.
Location: Short-term rentals are often located in the heart of the city, which means you'll be within walking distance of the fairgrounds. This is especially important if you plan to stay out late and don't want to worry about transportation or finding a taxi. Additionally, staying in a rental home or apartment allows you to experience the city like a local, rather than staying in a tourist-filled hotel.
Space: Short-term rentals are usually more spacious than hotel rooms, which means you'll have more room to relax and unwind after a long day at the fair. You can also cook your own meals and enjoy the comfort of a home away from home. This is particularly beneficial if you're traveling with a group or family, as you'll have more privacy and can enjoy each other's company without feeling cramped.
Cost-effective: Renting a short-term property can often be more cost-effective than staying in a hotel, particularly if you're staying for an extended period of time. You can often negotiate rates with the owner or manager, and you'll save money by cooking your own meals instead of dining out for every meal.
Cultural immersion: Staying in a short-term rental allows you to experience the local culture and way of life. You can shop at local markets, cook local cuisine, and interact with the neighbors. This is an excellent way to fully immerse yourself in the Seville culture and enjoy the fair like a true local.
Amenities: Many short-term rentals offer amenities such as laundry facilities, kitchens, and Wi-Fi. These amenities can make your stay more comfortable and convenient, especially if you're staying for an extended period of time.
In conclusion, staying in a short-term rental during the Seville Fair is an excellent choice for those who want to experience the city like a local and enjoy the festivities to the fullest. You'll have more space, be in a prime location, save money, and immerse yourself in the local culture.
At Doinn we are very committed to the cleaning standards in short-term rentals during the Seville fair despite the challenge of asking the cleaners not to party too much those days 🙂
Don't miss out on this incredible opportunity to create unforgettable memories in Seville!
My colleagues from the 500 Global, very intelligent professionals, prepared and with a lot of responsibility, told me "The company has to stay in shape. If there are too many people, I agree with what they have done. Otherwise, these people cannot develop, frustration, useless work, coffee for everyone and other ills that I will not list are generated. In addition, the company is less prepared for the future if they are badly given".
Where we come from:
1. In early 2020, American companies were told to pull the parking brake. Then months later they were told: "full throttle…" because everyone was much more on the internet and because of the financial stimuli.
2. Since the 4th quarter of 2022 they have been telling them again: "Put the brakes on" for what is coming. Now they are asking: "Are we really slowing down, or is it going to be like 2 years ago?"
Layoffs may be necessary to ensure the viability of the company (or shareholder remuneration). But the current situation is that technology companies lay off because the management has not been successful in these 3 years.
Consistency
I give you 3 situations of companies that, in my opinion, are consistent in their dismissal policy:
2. The big ones that don't go crazy: Apple, has not grown artificially because the conditions were propitious. Still, no layoffs, and its CEO cuts the bonus by 40%.
3. The CEOs who bloated themselves artificially and now accept responsibility: Zoom cuts employees and their CEO reduces salary and bonus during 2023 by 98%. The CEO of Google, whom he criticized in his day, the bonus will also be cut although there are no details
The recent layoffs of vacation rental employees have been a difficult experience for many, from Vacasa (1300 employees), OYO (600 employees), Avanstay (144 employees), Sonder (250 employees), etc We are sure their contributions were valued and appreciated while you were there
If you are one of the affected employees, we hope you will find great new challenges soon – ones that allow them to use your talents in meaningful ways and further develop your skill sets over time.
Our thoughts are with each person who is going through this transition period as they look for new opportunities. We wish everyone impacted by these layoffs all the best as they move forward into a brighter future!
If you would like to join our team, send us your resume (cv@doinn.co) and explain your interest.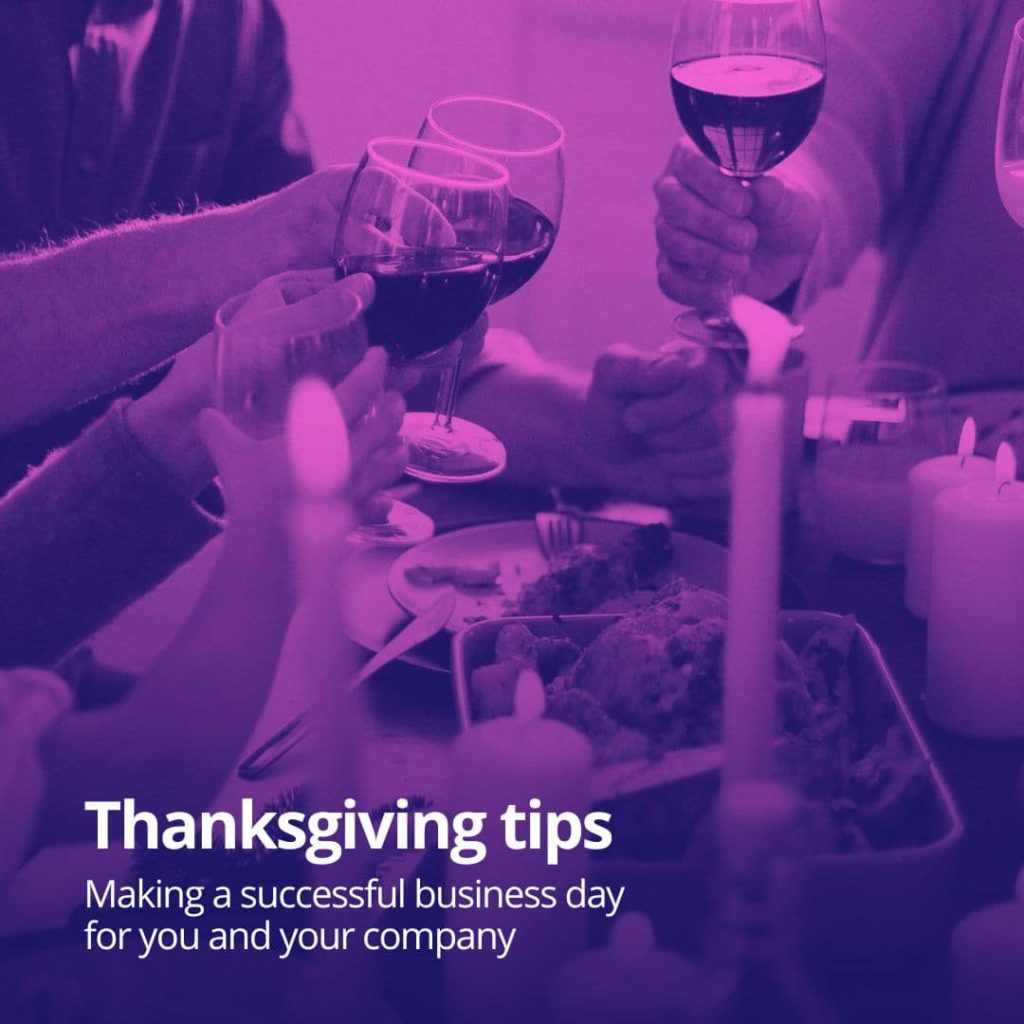 With Thanksgiving just around the corner, many short-term rental managers are thinking about how to make this holiday a success. With the holiday season in full swing, Thanksgiving can be a stressful time for hosting guests. You may end up putting too much pressure on yourself, which will affect your health.
We know you want everything perfect, so we have found some great tips for making Thanksgiving a successful business day for you and your company.
Why Thanksgiving is a great day to be spent in a short-term rental
Thanksgiving is a day that celebrates the things we are thankful for. It is a time of love, family, and family time. But most of us can not afford a house to hold a dinner for so many people, so a staycation in a short-term rental is a great solution.
If you are afraid of getting a loud party and/or an extremely dirty kitchen, you should follow these tips:
1. Make sure guests have a proper in-person check-in. Smart locks are great for autocheck-in for regular days, but it is worth dedicating 30 minutes to this reservation on such a special day.
2. Explain in detail how the kitchen works if they will be cooking there and subtly let them know you expect to find things as clean as you leave them.
3. As you can imagine, every tip about nice shops that will be open for Thanksgiving around your place will be more than welcome.
4. If you have extra Thanksgiving decorations for them to borrow, they probably will fit your table better than whatever they bring from their home
5. Make sure you have enough cutlery and crockery for all the guests
The no-party policy
6. Be clear about your no-party policy, we want them to feel at home but respect the house as if they were in their in-law´s house.
7. If they are staying for more than one day, offer an in-stay cleaning service. They will be more than grateful to save the clean-up time and sharing the cleaning fee between the guests will make it very affordable.
8. Let them know where are the table games and/or a whiteboard to play, it will generate good memories and will avoid even the youngest to spend time on their screens
9. Prepare simple Thanksgiving Photo Booth Props with your logo or a QR code with your website or email. They will love it and will always have access to your contact in their pictures
10. Thank them for choosing to spend Thanksgiving in your place. This is the time of the year when we feel more comfortable thanking the people who make a difference in our lives. If they decide to book your place every year, it can be a game changer for your business and life.
Not only vacation rental technology for your business is about getting a PMS.
With this in mind, a property management software releases you from a bookings nightmare.
As well as getting your property bids improved which is extremely important.
But when you have a vacation rental business there is a lot of processes.
Maintenance, cleanings, check-ins, and a lot more tasks that are regularly done.
And of course, there are a handful of apps and software available to help you do this.
Because of this, choosing a proper tool that adapts to your needs and type of business can be complicated.
Therefore that is exactly why you need to read this article, we teach some tech to oversee it all!
Obviously, we tell you all about it just keep reading 👇👇
Types of vacation rental technology:
As we told you in a recent article about 2022 trends. Digitalization is not going anywhere.
That being said, is just a matter of time before more and more industries have been impacted by the use of technology.
First, find out which tasks you would like to automate or manage.
Get an objective: reduce hours in operations, reduce problems in the property with guests, etc.
If you choose operations the first thing that comes to mind is cleaning.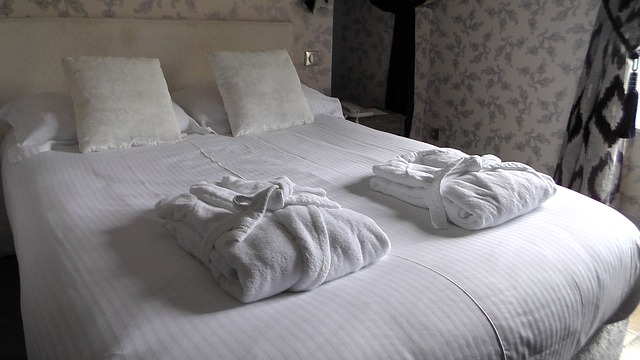 But you will also have:
Maintenance: plumbing, electricity, etc.
Manage staff.
Operate check-in and checkouts.
Get easier payments for these services.
Manage billings for services more transparently.
Sell extras to guests.
Also, keep in mind you will have to solve these issues for all of the properties you manage.
Don't know about you, but we get tired just thinking about it! 😫
Meanwhile, on the alternative accommodation market, we are able to find:
Thinking about improving your maintenance requests and services? Check some of these options:
Marketplace and other tools
Equally important, is being able to diversify your income.
And start upselling to your guests is the perfect excuse, here is how you can do this:
Our partner CHEKIN has just launched a new feature to sell experiences and more. Check it all here.
Revolutionize the experience of your guests, increase the benefits of each reservation, get better reviews and get more direct reservations.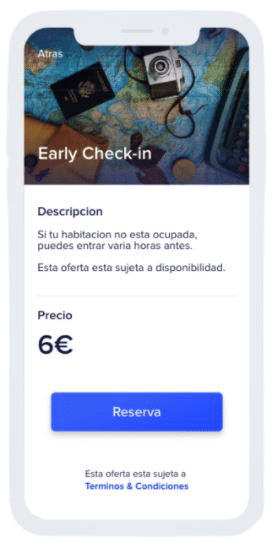 Similarly, other things such as luggage storage when guests check out can be arranged to check our partner LUGGIT APP.
Not only luggage but also if you want to sell breakfast items or skies rental?

Check out BNSELLIT.
Ultimately, HOUSEKEEPING platforms are our favorite as we are the masters of this subject.
Therefore check all the details about the platforms we are comparing today:
DOINN vs VRscheduler vs Breezeway
Doinn connects top cleaning and linen rental companies with years of experience to property managers.
As a result, helps to standardize processes for alternative accommodation.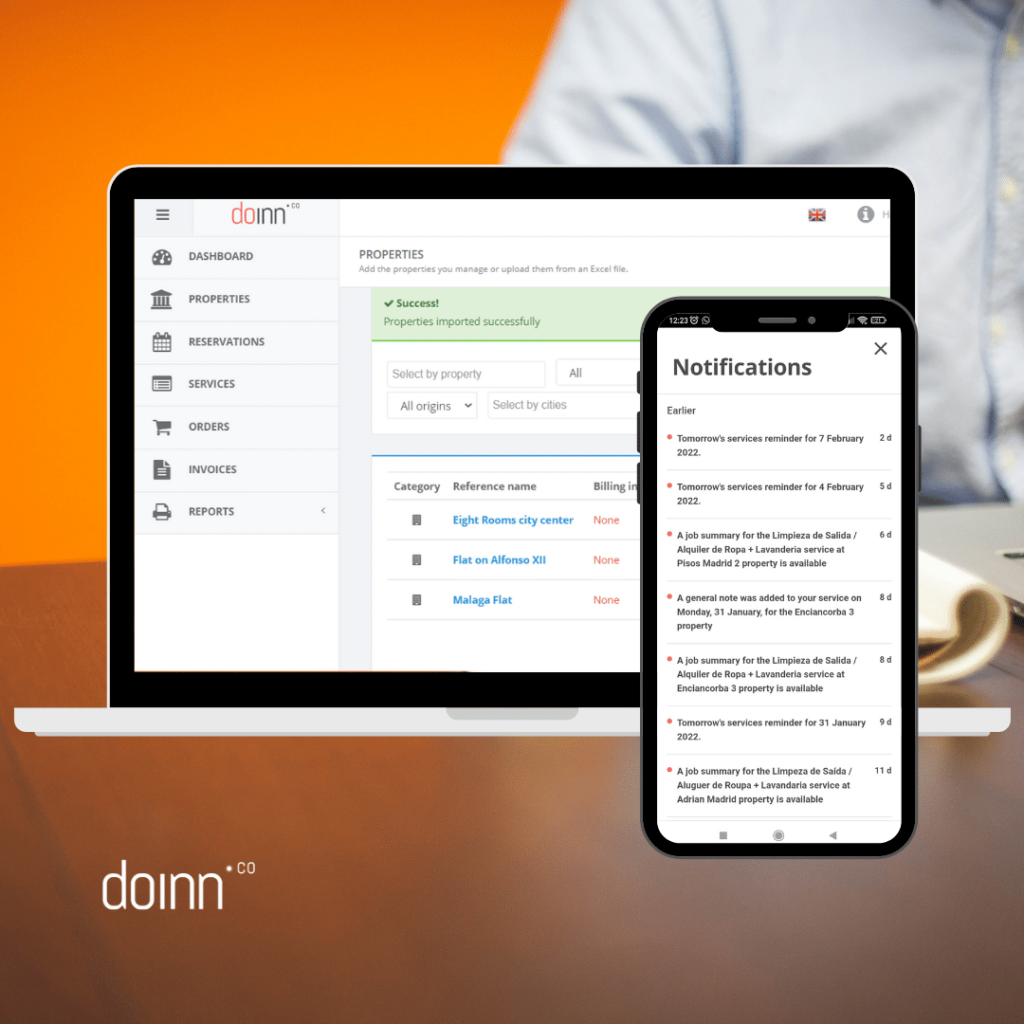 Property managers, BnB's, hotels, and property owners in general, can have a platform to order services based on their booking calendars.
Buyers can follow up on the services performed in their properties through our app.
Doinn has been on the market since 2015 not only offering cleaning services but also: Linen rental, Laundry, Amenities, Deep cleaning, Move-in and move out services, Check-in, and Check out agents.
Now Doinn is available in 11 countries and more than 600 cities.
Doinn is more likely used by property managers and B2B rental management companies, Colivings, and other types of alternative accommodation providers.
In this case, VRscheduler offers operations and housekeeping Management for 10-100+ vacation rental, short-term and long-term properties.
VRScheduler is a platform for scheduling and tracking cleaners, inspectors, and maintenance staff.
VRScheduler works with your booking software to improve workflow. Save time, optimize labor and minimize costly mistakes.
VRScheduler allows different vendors to update the system and streamline employee task programming as needed.
Drag and drop a scheduling calendar for vendors such as cleaning companies, security companies, hot tub service companies, and so on.
Most likely used by: rental owners and management companies who manage teams and outsourcing services.
What is Breezeway?
Breezeway's property operations platform helps coordinate, communicate, and verify detailed work at properties, and delivers the best service experience to guests and homeowners.
Combining deep learning technology, robust property data, smart messaging, and mobile-first task management.
Breezeway is bringing service optimization to the property management space.

Their target markets include vacation rental managers, short-term rental operators, hotels & hostels, resorts, cleaning/maintenance services, & residential managers.
Comparison chart:
We have built this chart in order for you to be the judge in terms of the needs and tech of what you need.
Take a look:
This information has been collected through online resources, we strongly suggest visiting this platform's website if you need more info.
Finally, we believe this comparison chart is the best way to understand what you will need to have in consideration.
Why choose Doinn?
Now, why do we think Doinn is your best option?
Doinn has been in business since 2015, understanding the needs of the alternative accommodation market and improving our product.
Flexible and scalable.
Integrate with more than 10 TOP market PMS as well as iCal from airbnb and bookin.com
Buy certified services with proven quality.
Real-time service notice through the Doinn app.
Efficient communication with the cleaning staff through the app. (Just like WhatsApp!)
You will get an outstanding team behind the platform, online resources, and customer support 24/7.
The cleaning staff is able to report issues with photos, directly in your job summary for every service.
If by all means you still feel that you cannot be part of this, probably means you are a small owner with 1-2 properties.
In that case, we strongly suggest looking at the other options we presented or check this great article too😜
Thanks for checking out another one of our articles!
See you in the next one! And remember that: Doinn is here for good 😎
A Channel Manager is definitely an extensive subject and of course here at Doinn, we care about giving you all the details on this type of solution.

Moreover, providing clean and tidy accommodation to your guests is a big part of your operations.

That is why we want to offer you various solutions and integrations.
Today we are announcing our integration with a new property management solution: let's welcome Octorate!

A complete suite with different features that will help you run your vacation rental company.
See all the details about Octorate here below 😉
Octorate – the perfect solution for property management
Thanks to the Octorate Channel Manager you will boost your visibility online and hence increase your reservations.
Octorate is Booking.com, Airbnb, and Expedia's preferred partner.
As well as being integrated with +150 OTAs around the world.
Allowing you to potentially open your property to sell.
A channel manager like Octorate will definitely simplify your business and your daily activities.
You will have the chance to start getting many reservations on various portals.
But you can manage all of them from one platform (rates and availability update, restrictions, etc).
With Octorate, you can also start getting reservations without any commission costs thanks to the Booking Engine.
It is a booking platform compatible with any website and fully customizable.
However, in case you do not have any web page, you can get the OctoSite.
A real website that can be set up in a few minutes, already linked to the Booking Engine.
Housekeeping with Octorate & Doinn
Octorate is not only a great tool for property management because of all the channels you can work with.
But also an in-cloud platform compatible with any device and you do not have to install any software to use it!
By combining both powerful solutions you will have a new way of running your business with Octorate & Doinn.
Add the iCals of your properties to your Doinn account, you will be free of the hassle of cleanings.
Automate the turnovers with every new booking coming from the different channels.
This combined with the Octorate app will be a completely new way of running your business.
If you use the Octorate App on your phone, you will be able to use the following features:
Model Pics – App
If you have a standardized way of arranging the furniture and amenities in the rooms, Octorate got your back!
You can save a gallery of pictures in the details of each room/apartment.
The cleaner will only have to download the Octorate App to see the pictures and keep them as a reference when taking care of the accommodation.
This functionality is particularly useful for new staff members!
Maintenance notes – App
Let's suppose the cleaner spots a sink leaking in the bathroom of the accommodation.
They can easily leave a maintenance comment via the App, which will be visible to anyone in Octorate in relation to that specific room.
Why use Doinn & Octorate together
So let's say that the cleaner is using the Octorate app to get your apartment to "look like" you want it.
But, are they following any specific technique not to miss a spot?
Doinn has certified protocols and cleaners follow a very specific checklist to avoid losing any details when performing the service.
And remember the maintenance comment on the Octorate app?
You can follow up on that by creating a maintenance service with one of Doinn's vendor to solve the problem!
As well as a bunch of other types of services:
Deep cleanings

(To get the property ready after a long time been unused)
Common areas cleanings, and more!
On top of that get a Doinn host app in order to follow up and know when a service starts or finishes!
Great, right?
As you can see this partnership is thought of as making your life easier!
The partnership between Octorate and DOINN can really help you to improve and simplify the management of your property at the same time.
Thanks for reading and evaluating this solution for your business.
When using such a powerful property management solution as Octorate:
Your visibility online will be boosted
You will get much more reservations
Your workload will increase
However, we are offering you the right tools to keep all this under control!
DOINN and Octorate know it very well and aim at making operations for your property a smooth process.
Doinn is here for good, in more than 11 countries and 600 cities!
Do not worry about searching for trusted teams anymore, count us in.
See you in the next article! 👋👋
PMS integration is always good news at Doinn!
Today we are welcoming our recent integrated partner: TOKEET
Tokeet it's a great addition to our portfolio of integrations.
Tokeet offers a complete, fully integrated, and best-in-class suite of products for all aspects of a vacation rental business.
Their platform contains all the tools you need to grow from 1 to 1K rentals.
Providing a full-stack platform. Tokeet is a one-stop shop for vacation rental management software solutions.
This was more than an excellent reason to make an integration with them.
How does Tokeet works?
We know there are a lot of options to choose from on channel managers and tons of PMS solutions.
So we figured it was easier to share this video with you guys to hear the reasons directly from the horse's mouth 😉
Tokeet is a Property Management System (PMS) launched in 2016 with over 50,000 rentals.
Aimed at hosts and managers from 1 to 1,000 properties!
Tokeet's solutions make it easy for vacation rental managers to coordinate reservations across multiple channels, automate tasks, and perfect pricing.
Why use the Tokeet – Doinn integration?
Remember that article where we talked about preparing after post-pandemic traveling?
One of the keys to this new era is digitalization.
And having a strong PMS allied is a very important part of this process.
By using a powerful tool for your property management and hooking it up with our solution you will be one step ahead!
Doinn is not only a platform, it is an operations center!
Ready to help you get your properties ready when you need them!
How to integrate with Doinn?
Check out this video to see how tokeet PMS and Doinn integration works!
Activate the integration in less than 3 minutes!
You can also read the complete help page here.
Remember by integrating Doinn you will also have a mobile app to get real-time information on your property operations!
You don't want to miss our upcoming collaborations! Stay tuned for more of our partnership news on our social media and blog content!!
See you next time 👋🏻👋🏻